What can parents do? Behind the scenes of Fashion Revolution's Who Made My Clothes? course, entry 1.
7 months ago
---
It's Day 1 of Week 2 of the 'Who made my clothes?' online course. There have been some lively and fascinating conversations on its discussing boards, and a filmed Q&A session that was posted online last Friday. Last week was fun. That's behind us now. A new week begins.
We wake up, check the course's Instagram feed, get dressed (constantly thinking about who made our clothes, but also wanting to look good *eye-roll*). We're off to a Teddy Talk at Exeter's Phoenix Arts Centre – armed with the clothes we're going to research as we take, as well as support learners taking, this course.
We arrive to find a bunch of babies accompanied by their sleepless parents who, for once, don't want to talk about nappies (a recipe for disaster?). Course leader Ian gives an excellent talk about what we're doing, accompanied by a few cheers of encouragement (or is it outrage?) from the babies. As a team, we are asked "What can we parents do?". Annily gives Orsola de Castro's beautiful point made the Q&A: "treat your fiver like it's five-hundred" and "don't buy 5-for-1, buy 1-for-5". We think this is pretty good logic.
How did the parents respond? "That is all well and good, but babies are messy and grow out of it in two minutes". This made us think and was a very different response to one that we would have given. It's a reminder that Fashion Revolution is not only about the clothes you wear, but also about the clothes you buy for others.
Mentoring on this course has the pesky habit of revealing perspectives none of us had considered. From day one we have loved being part of a global conversation, and, with over 6,500 curious learners signed up to the course, the course is still growing.  Our eyes have been opened by the reporting on the Rana Plaza Disaster from different parts of the world, how it has been portrayed in different parts in the world, from detached descriptions to emotional accounts. And tellingly, some people said that they had never even heard of it at all.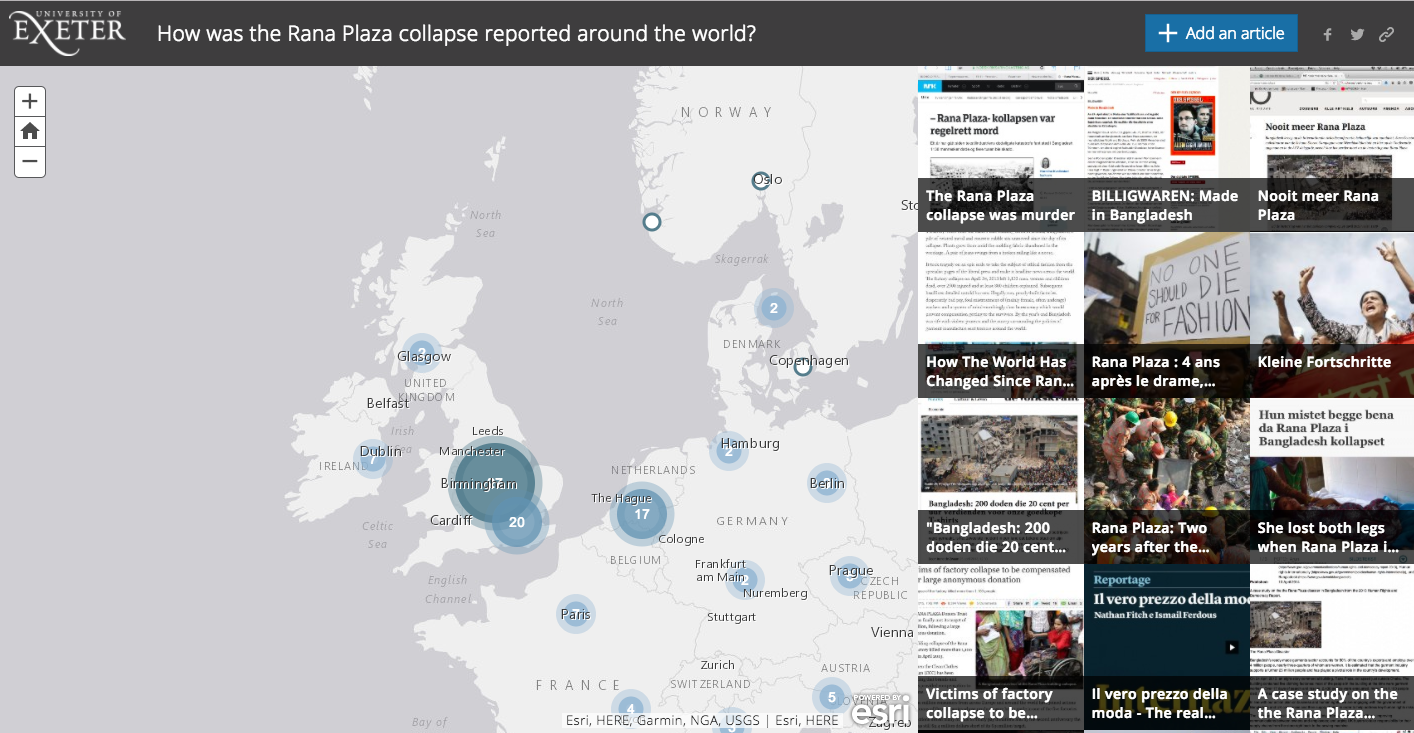 We're finding it hard to look away from the discussion boards. It is definitely a collaborative learning process – with us sometimes just watching the conversations unfold. We've already taken the university module on which this course is based, struggling to make the 8.30am class each Tuesday. Now the course is on a much larger scale: it's global, all-ages, people who make their own clothes, fashion experts (we'd never heard of a Plain Feed Flat Bed Chain Stitch…), sleepless parents, and shopaholics. This creates a much richer conversation about 'Who made my clothes?' and it's really exciting!
Our clothes have taken on new identities and we've started to realise how obviously connected they are with lives behind the stitches. Mentor Caroline can no longer wear her Zara top without being reminded of last week's Q&A with Orsola de Castro and Kalkidan Legesse in Sancho's Dress, Exeter (beautiful ethical clothing – check them out!). It was a bit of a dream come true to hear their replies to questions coming from the discussion boards.
Tomorrow morning we have to do it all again. Our mind-set has forever changed and we can't wait to find out more.
Caroline Weston Goodman, Annily Skye-Jeffries, Lily Petherick and Kate Fox
To join this free 'Who made my clothes?' course, please register here. We are now at the start of the second week of a three week course. The course team will be answering questions in the discussion boards until the end of next week. Those taking the course for free can start the course at any time and access the course for a further three weeks after we finish. Those paying for an upgrade will have access to the course forever.