Transparency is trending
8 months ago
---
An increasing number of fashion brands and retailers are publishing a list of their suppliers. As of June 2017, we have counted 106 brands across 42 companies/parent groups that are disclosing at least some of the facilities making their clothes.
When we published the first edition of the Fashion Transparency Index with Ethical Consumer magazine in April 2016, we looked at 40 leading global fashion brands and found that only 5 brands (adidas, Converse, H&M, Levi Strauss & Co and H&M) published a list of their manufacturers and only 2 (adidas and H&M) published the names and addresses of sub-contractors or fabric/yarn suppliers.
Out of the 100 brands included the Fashion Transparency Index 2017, we counted 32 that are publishing a list of their factories at the first tier, where clothes are typically cut, sewn and trimmed. We discovered that just 14 brands are publishing their processing facilities, i.e. where clothes undergo dyeing, printing, finishing, laundering and other processing.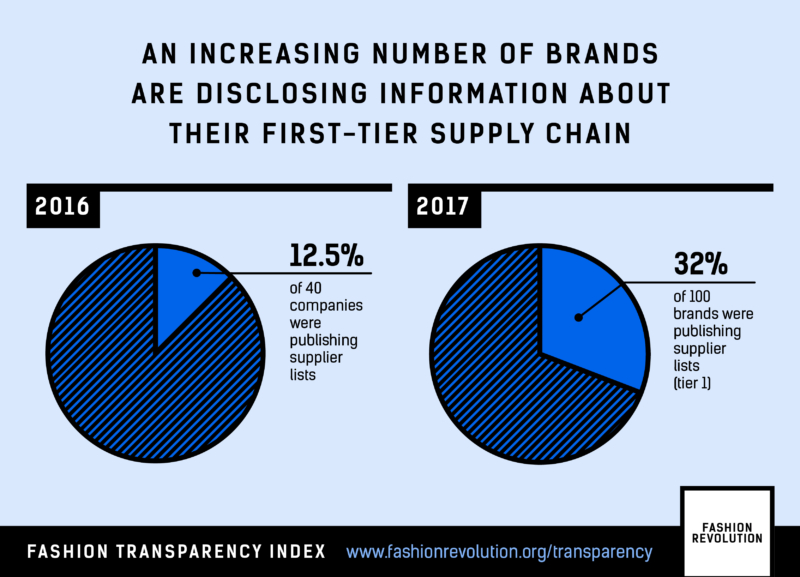 Since the beginning of 2017 we have seen brands that have published a supplier list for the first time include ASOS, Berghaus, Benetton, Brooks Sports, Joe Fresh, HUGO BOSS, Uniqlo and others.
Over the past year Marks & Spencer has published an interactive map of its suppliers in both food and clothing, which spans 53 countries and covers 1,229 factories employing 787,331 workers as well as Gap, C&A, VF Corporation (which owns more than 20 brands including The North Face, Timberland, Vans and Wrangler) and Australia's Jeanswest have all revealed the names and addresses of the factories that manufacture their clothing around the world.
Publishing supplier lists is important because it helps NGOs, unions, local communities and even workers themselves to alert brands of any potential human rights and environmental issues in their supply chains. This sort of transparency makes it easier for the relevant parties to understand what went wrong, who is responsible and how to fix it. It also helps consumers better understand #whomademyclothes.
Below, we have put together a longer list of 106 brands (those over £36 million in annual turnover or part of larger parent company) that are publishing lists of their suppliers. The information they provide varies widely. Some publish every factory where their clothes are manufactured. Others may only reveal a selected portion of their manufacturers, such as their core high-volume suppliers, factories located just in one country or only the factories the company owns.
Some brands will publish very basic information — just a name and country  — whereas others will disclose more detailed information such as the factory's address, number of workers, types of products the factory makes, gender breakdown of the workers in the factory, and so on. There is no standard format for disclosure. However, we believe brands should be disclosing more than just a name and country. We will be pushing brands to provide a greater level of detail in their supplier lists, and you can encourage them to do so too. Check out the new Get Involved packs for ideas on how to influence brands to be more transparent about their suppliers.
The tide is changing and we are moving into a new era. There's still a long way to go, but these lists are an excellent beginning as they help all of us that love and care about fashion to participate in making the industry more accountable.
This list doesn't yet distinguish the level of detail brands are publishing; it's also not exhaustive. If you are aware of other brands (over £36 million in annual turnover or equivalent in another currency) that are publishing their factory lists, please let us know at press@fashionrevolution.org, we will be sure to add them below.
Please note: We are not endorsing the brands included in this list; this is not a 'seal of approval.' While publishing supplier lists is a necessary step towards greater transparency and improved conditions in fashion supply chains, it does not guarantee ethical business practices. However, we hope you find this list informative and continue to ask brands #whomademyclothes.
Brands who publish supplier lists (tier one only):
& Other Stories (H&M group)
Adidas
ALDI-Nord
ASOS
Athleta (GAP Inc.)
Autograph (Speciality Fashion Group)
Banana Republic (GAP Inc.)
Berghaus (Pentland Brands)
Berlei (Pacific Brands)
BigW (Woolsworth Group)
Black Pepper (PAS Group)
Bonds (Pacific Brands)
Brooks Sports
C&A
Champion (Hanes Brands)
Cheap Monday (H&M group)
City Chic (Speciality Fashion Group)
Cole's (Wesfarmers Group)
Columbia Sportswear Co.
Converse (NIKE, Inc)
Cos (H&M group)
Cotton:On
Crossroads (Speciality Fashion Group)
Curvation (Fruit of the Loom, Inc.)
Designworks (PAS Group)
Disney
Eagle Creek (VF Corporation)
Eastpak (VF Corporation)
Esprit
Factorie (Cotton On Group)
Forever New
Fruit of the Loom
G-Star
Galeria Inno (HBC)
Galeria Kaufhof (HBC)
Gap
George at Asda (Walmart)
H&M
Hanes
Hermès
Holeproof Explorer (Pacific Brands)
Hudson's Bay Company (HBC)
HUGO BOSS
Hurley (NIKE, Inc)
Intermix (GAP Inc.)
Jansport (VF Corporation)
Jeanswest
JETS Swimwear (PAS Group)
Jockey (Pacific Brands)
Joe Fresh (Loblaw Companies Limited)
Jordan (NIKE, Inc)
Katies (Speciality Fashion Group)
Kaufland
Kipling (VF Corporation)
Kmart Australia (Wesfarmers Group)
Lee (VF Corporation)
Levi Strauss & Co.
Lidl
Lindex
Loblaw
Lord & Taylor (HBC)
lucy (VF Corporation)
Majestic (VF Corporation)
Marco Polo (PAS Group)
Marks & Spencer
MEC
Millers (Speciality Fashion Group)
Mizuno
Monki (H&M group)
Napapijiri (VF Corporation)
Nautica (VF Corporation)
New Balance
Nike
Old Navy (GAP Inc.)
Outerknown (Kering Group)
Patagonia
Puma (Kering Group)
Razzamatazz (Pacific Brands)
Reebok (Adidas Group)
Reef (VF Corporation)
Review (PAS Group)
Rider's by Lee (VF Corporation)
Rivers (Speciality Fashion Group)
Rock & Republic (VF Corporation)
rubi (Cotton On Group)
Russell Athletic (Fruit of the Loom, Inc.)
Sak's Fifth Avenue (HBC)
Sisley (Benetton Group)
Smartwool (VF Corporation)
SPALDING (Fruit of the Loom, Inc.)
Supré (Cotton On Group)
Target
Target Australia (Wesfarmers Group)
Tesco
The North Face (VF Corporation)
Timberland (VF Corporation)
Uniqlo (Fast Retailing)
United Colours of Benetton (Benetton Group)
Vanity Fair Lingerie (Fruit of the Loom, Inc.)
Vans Off The Wall (VF Corporation)
Vassarette (Pacific Brands)
Voodoo (Pacific Brands)
Weekday (H&M group)
White Runway (PAS Group)
Wrangler (VF Corporation)
Yarra Trail (PAS Group)
Total 106
---
Not yet disclosing their suppliers but expected to publish a list during 2017 or have agreed to publish by signing the Transparency Pledge* include these 24 brands:
ASICS
BESTSELLER
Boxfresh (Pentland Brands)
Clarks
Ellesse (Pentland Brands)
JACK&JONES (BESTSELLER)
Junarose (BESTSELLER)
Jacqueline de Yong (BESTSELLER)
KangaROOS (Pentland Brands)
Mamalicious (BESTSELLER)
Name It (BESTSELLER)
New Look
Next
Noisy May (BESTSELLER)
Only (BESTSELLER)
Only & Sons (BESTSELLER)
Pieces (BESTSELLER)
Red or Dead (Pentland Brands)
Selected (BESTSELLER)
Speedo (Pentland Brands)
Tchibo
Vero Moda (BESTSELLER)
Vila Clothes (BESTSELLER)
Y.A.S. (BESTSELLER)
** The Transparency Pledge coalition including Clean Clothes Campaign, Human Rights Watch, IndustriALL Global Union, the International Corporate Accountability Roundtable, the International Labor Rights Forum, the International Trade Union Confederation, the Maquila Solidarity Network, UNI Global Union, and the Worker Rights Consortium.