The revolution is growing stronger
2 years ago
---
This year has been the loudest and strongest
Fashion Revolution campaign yet.
During Fashion Revolution Week (18-24th April), over 70,000 people around the world asked brands #whomademyclothes?, which reached 156 million organic impressions (the number of times our conversation appeared in people's social media feeds.)
Over the week we were joined by celebrities and influencers like pro surfer Kelly Slater and his brand Outerknown, supermodel Amber Valletta, actress and activist Rosario Dawson, actress Bonnie Mbuli, style icon and fashion editor Caroline Issa, TV presenter and cook Melissa Hemsley, vloggers Greta Menchi, Marzia Cutie Pie and Maddu, and journalists Elisabeth Cline and Marion Hume.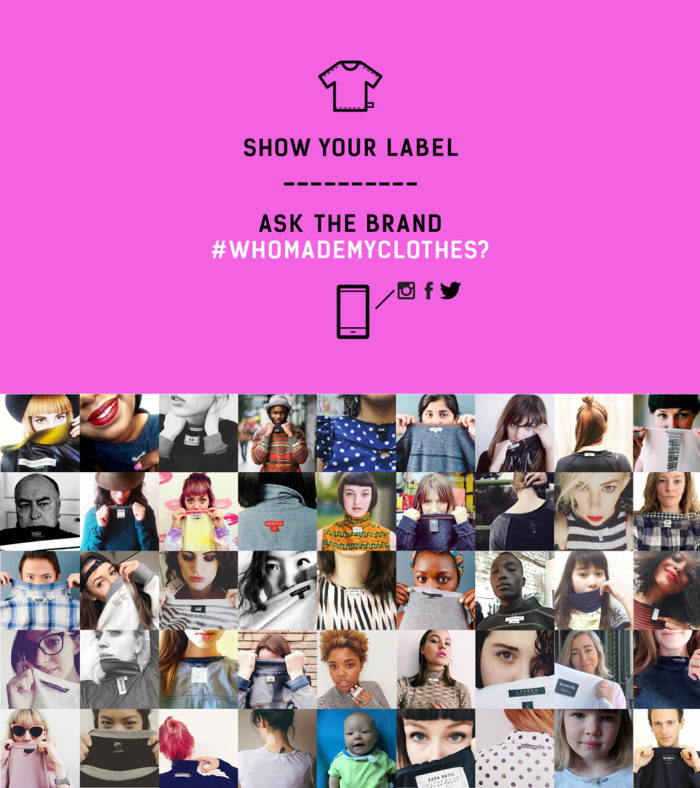 By asking the simple question #whomademyclothes to brands, we have ignited a global conversation about supply chain transparency, and started to inspire people to think differently about what they wear.
As citizens, we have more power than we think. Our questions, our voices, and our shopping habits can have the power to help change the industry for the better. United we are even stronger, and Fashion Revolution brings everyone together to make that happen.
The more people who ask #whomademyclothes
the more brands will listen.
And we can see that it's starting to have an effect. More brands are listening to our collective voice and responding, and more producers than ever are using social media to tell the world #imadeyourclothes.
This year more than 1200 brands and retailers answered #whomademyclothes, 448% more than 2015. Over 300 mainstream brands responded to the question, including Fat Face, Boden, American Apparel, Marimekko, Massimo Dutti, Warehouse and Zara.
We heard from over 2,600 producers, garment workers and makers, who used Instagram and Twitter to tell the world #imadeyourclothes, and share their stories.
The Fashion Revolution has been sparked offline too, with over 800 Fashion Revolution events taking place all over the world in April alone, including film screenings, craftivist workshops, clothes swaps, panel discussions, catwalk presentations and creative stunts.
University students from around the world signed up to become Fashion Revolution Student Ambassadors and used our engaging education resource platform to instigate creative and thought provoking events and actions around the world.
We released the first edition of our Fashion Transparency Index, which scored 40 of the biggest global fashion brands on what information they publicly disclose about social and environmental issues across their supply chains. Of the initial 40 brands, only 5 brands publish a list of the factories where their garments are sewn.  As consumers, we deserve to know that what we buy has not been made in an exploitative way. Next year we'll be expanding our list to include 100 brands and continue to strengthen our quest for more disclosure of the people and processes behind what we wear.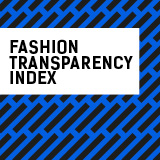 Over the past two years we have been working with policymakers in the UK parliament and European Commission to look at ways governments can support more transparency from the fashion industry.
Our voices and stories were featured in the global press like never before: showing the world that fashion matters and that turning this industry into a force for good is a real priority. Our global media coverage, which had a reach of 22 billion (meaning the times that and article about Fashion Revolution could have been seen), included the The Sydney Morning Herald, Estadão, Dazed magazine, i-D, Refinery29, Vice News, Grazia Spain, The Pool, The Telegraph, Bustle, The Independent, Vogue Italia and others.
Why we need to keep asking #whomademyclothes
In just three years, we have grown the movement to span 92 countries and to reach millions of people, but there's still a long way to go.
Despite some steps forward since the Rana Plaza garment factory collapsed in 2013 killing 1134 people, not enough has changed. About 75 million people work directly in the fashion and textiles industry, and about 80% of them are women. Many are subject to exploitation; verbal and physical abuse, working in unsafe conditions, with very little pay. This is why the 'who made my clothes' question is still hugely important.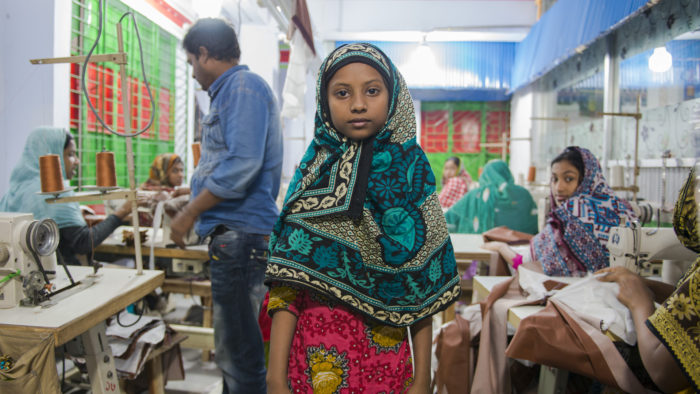 We believe the industry can, and should, work better for the people who make our clothes. Over the next few years, we're going to keep working to ignite an even bigger global conversation about what we wear and the stories behind our clothes – from the people who make them, the companies that sell them, to how we wear, care and dispose of them.
Together we will continue to ask designers, brands and retailers #whomademyclothes and to encourage #imadeyourclothes responses from more suppliers, garment workers, producers and makers via social media.
Fashion Revolution is a global movement, which relies on the hundreds of dedicated volunteers and our fantastic 92 Country Coordinators who power the revolution in creative, effective and meaningful ways. In order to keep growing the Fashion Revolution and to keep on pushing for positive change, please join us by making a financial donation.
__
Read our Press Release on how brands responded to Fashion Revolution Week