The Revival of Cotton Weaving in Takeo Province, Cambodia
11 months ago
---
Cambodian Weaving Village is a small weaving studio located in the Tram Kak District of Takeo province, about 90 minutes south of Phnom Penh along National Road 3. The Village is home to The Weavers Project – a cooperative that was formed in 2013 as a joint initiative between Sonas World (managed by Paul Gill, a social entrepreneur from the UK) and Siphen Meas, a Takeo local. The Village is open to visitors who can stay overnight at the nearby Meas Family Homestay.

I visited Cambodian Weaving Village in November 2016 and was shown around by Linda Meas, Siphen's niece. I learned about the history of cotton weaving in Takeo province and The Weavers Project's efforts to revive a dying art – and how this all relates to Cambodia's ready-made garment industry.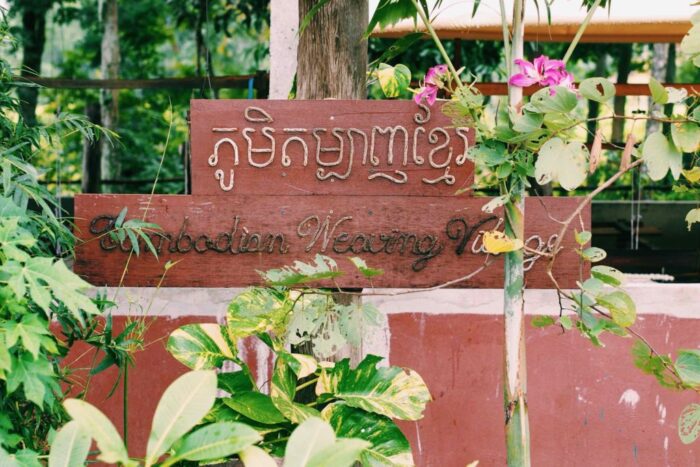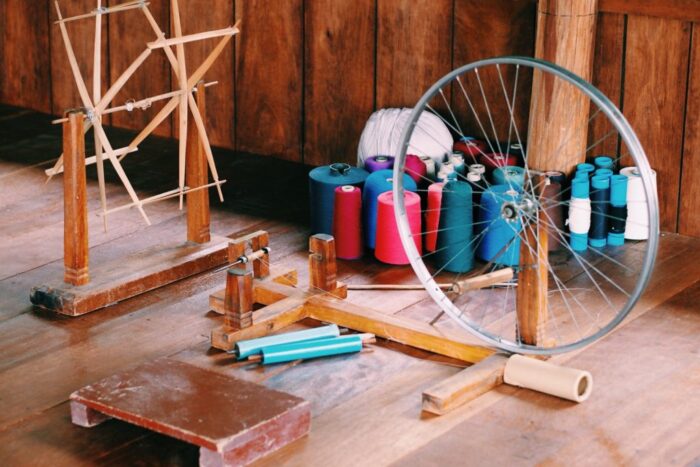 Welcome to Takeo
Takeo province in Eastern Cambodia is famous for its hand-woven cotton textiles – but you only need look around you to know that agriculture is now the province's main industry. As soon as you enter Takeo from the neighbouring Phnom Penh administrative zone, rice fields start dominating the landscape. At this time of year, some are golden with towering crops that are almost ready to harvest; others are still low and iridescent green.
Every family in this part of Takeo has their own piece of land; mostly farmed for subsistence, occasionally for selling surplus rice at a small profit. Linda tells us that after 'the time of Pol Pot', each household was left with an equal slice of land. Over time, some of the poorer families have been forced to sub-divide their fields and sell pockets of land to their neighbours, which has produced a cruel cycle of hunger and poverty.
Adding to their woes, the rain arrived late in Takeo this season, which has stunted some of the rice crops and compromised many families' harvests. The impacts of a bad yield will be felt for the rest of the year. In a village of around 500 families, many live hand-to-mouth. The 10 poorest households receive food aid from the local monastery, Linda explains, but there is no system of support for the families who haven't harvested enough rice to feed their children.
Takeo lives and breathes rice for three months of the year, when everyone pitches in to help with first transplanting the seedlings and later harvesting the grains. For the remaining nine months, there is simply not enough rain (or satisfactory irrigation) to sustain any food crops, so most of the fields go barren. Without a field to tend, many people find themselves out of work.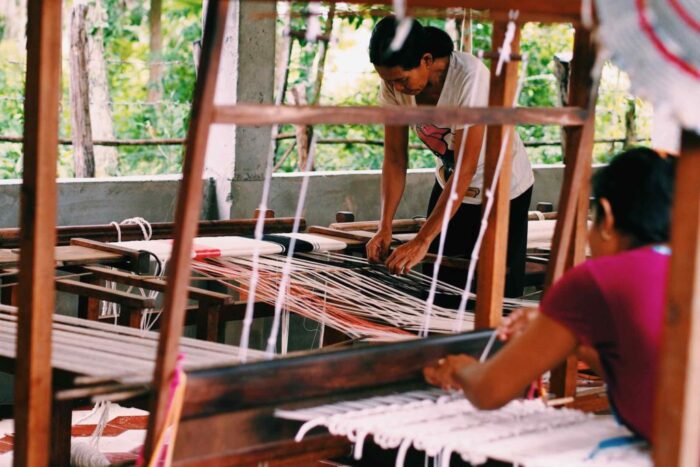 Weaving in Takeo
Traditionally, weaving has served to fill this gap between the rice harvest and transplanting seasons. In other districts of Takeo, wooden looms can still be found under most stilted houses – but in Tram Kak, weaving has all but disappeared as a supplementary source of income. Linda has childhood memories of her grandmother weaving at home, passing her knowledge down to her daughter and granddaughter through osmosis. When the looms disappeared (sometimes as a direct result of the Khmer Rouge and the hardships of that period), this transfer of knowledge ceased. The next generation of women never took up weaving for love nor for money.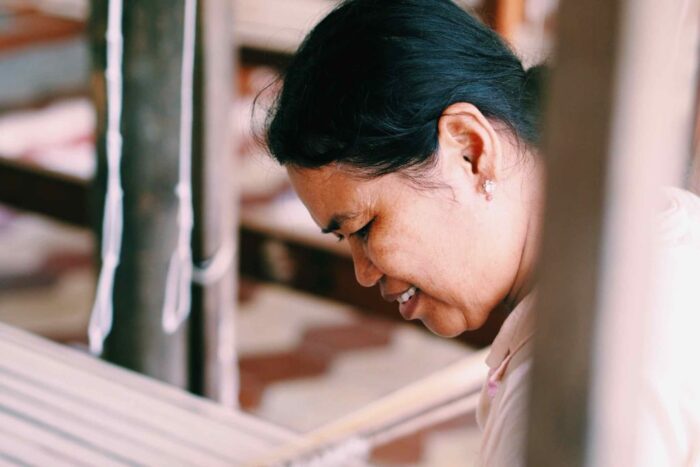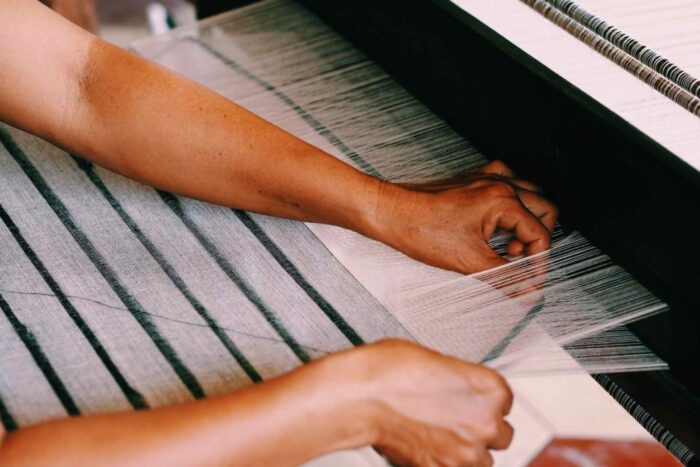 The Weavers
Spurred by the belief that weaving might once again be a viable source of income for women in Tram Kak, The Weaving Project has stepped in to preserve and restore weaving techniques.
Each weaver who works at the Village must first undergo intensive training, as she comes to the Project without any prior knowledge of how to operate a loom. The Village currently employs a team of eight full-time weavers with plans to expand to 10 women in the near future. Linda proudly shows off the Village's newest arrival: a frame loom built in Prey Kbba District, where carpenters still practice the art of loom building. All the weavers are women in their middle age; the youngest is 35 and the eldest is 50. Linda tells us that weaving is perceived by the community as a profession suited only to older women – something she and Paul are hoping to change for reasons I'll explain later.



What's on the loom?
The Weavers Project takes orders for a number of well-known Cambodian fashion labels – including tonlé, Watthan, A.N.D., and Kambuja Trading Co.. Since skill levels aren't yet high enough to handle temperamental silk, the Project deals exclusively with cotton. On the day we visited, most women were weaving scarves or longer lengths of fabric. Raw cotton skeins are imported from Vietnam and coloured here at the Village with coconut husk, tree bark, indigo and other natural dyes. This year Paul and Linda have been experimenting with growing their own cotton crop, with a view to making their textiles 100% local.
By partnering with successful brands, Paul and the Project receive a steady stream of orders. Linda explains the process of creating a basic striped scarf – one of the most popular designs made here. Setting up the warp takes approximately two working days, with each warp producing around 30 individual pieces. Each woman can weave an average of two scarves per day, which is a total output of more than 5,000 textiles annually – not bad for a small team!
As with most co-ops, weavers are paid per item and earn around 150-160 USD per month. All the weavers live close by and commute to work, thus limiting their living expenses. There are benefits for staff beyond a steady income, including flexible working hours, healthy workplace conditions, and time off during the rice harvest.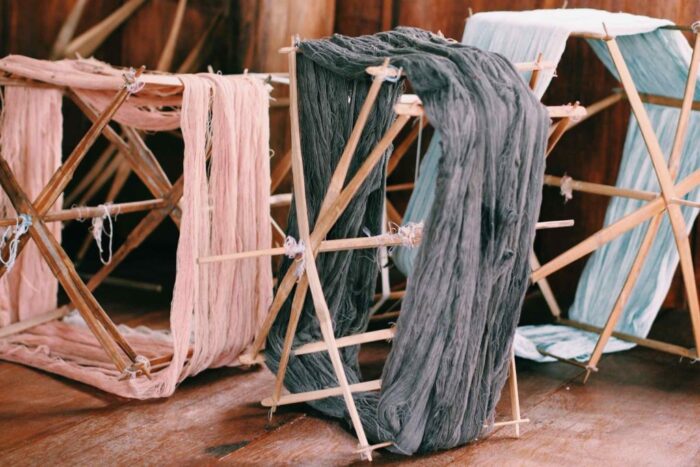 Weaving and the garment industry
I've been thinking lately about the relationship between Cambodia's ready-made garment industry (by far the country's largest employer of young women) and traditional handicrafts like weaving. When I ask Linda for her thoughts, she offers a few anecdotes about women she's worked with.
One young woman, Linda offers by way of example, came to the Village looking for a job, underwent the full training process, but then resigned after just three months of weaving. Like so many others, she left Takeo for Phnom Penh and a job in a garment factory. From Linda's perspective, many women are attracted to the factories by the promise of a higher (comparatively speaking) income – but they often forget about the high cost of living in the city that chews up most of a garment workers' monthly wage. Linda and Paul are set on attracting younger weavers to the Project, but with most of the village's women migrating to the city for work, it's difficult to find willing hands. I chatted briefly to a group of teenage students outside the Hope for Hapiness schoolroom one afternoon; none of them were interested in a career in weaving.
Families in Takeo are large, usually with  four or more children. Linda tells us that only 20% or so of children in this part of the country receive a decent education, with most kids leaving school before they finish grade nine. The young women inevitably head for the garment factories, while the young men (and their fathers, too) work as day labourers on construction sites. Encouraging more young women to stay in Takeo and earn an income through weaving would no doubt change the dynamics of the community quite drastically. I see a lot of potential in Paul, Siphen and Linda's vision to promote weaving as a way of making households more self-sufficient.
All words and photographs by Emily Lush. This post was originally published on Wander-Lush.