The Possibility Project & slumwer108, Jaipur India
2 years ago
---
The Possibility Project is a Sydney based social enterprise that partners with Jaipur NGO I-India, together they are making the product label slumwear108. It is a unique collaboration using vocational education and training programs to help foster greater social justice for all.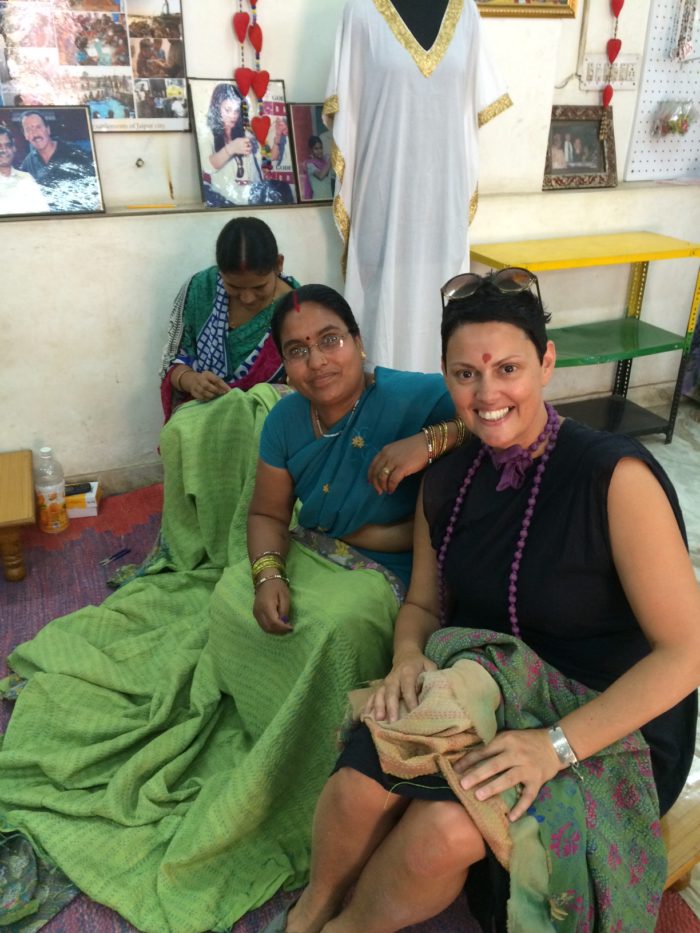 Who made my clothes?
slumwear108 is 'possibility materialised', our recycled silk sari and naturally dyed garments are co-created with former street youths and impoverished women in Jaipur. We design and craft our products through vocational education and training programs run by NGO I-India. Many of our workers (who are more like brothers and sisters to us) have experienced some of the most extreme human rights abuses on earth, but it is without a doubt their enduring spirit of possibility that inspires our work together.
I-India introduced us to Santoosh two years ago, a young woman who had been crippled by the effects of polio, living in very poor slum conditions she wanted work so she could somehow support her grandmother. Kath showed Santoosh how to make our silk fabric beads and soon she was teaching other youths around her. These beautiful beads have come a long way from that day and sales have helped support dignified work for many. But what we really want our consumers to know is that the day we met Santoosh – Kath and I didn't 'see' a crippled girl, nor a desperate person or even someone who may otherwise 'beg' for a living, we simply saw a creative, we saw another human being just like us, who wanted to make something for the betterment of herself and others, she exuded vitality and this is what we wanted to honour.
In the field of social justice it is far more prevalent for change making organisations to campaign about our differences, it will often relate to gender, income, race, religion and so forth – but we believe it is much more powerful to create change by honouring and valuing what we have in common with each other, our creative spirit, a place within us all that connects us to each other. We want our consumers to meet far more than the 'physical' maker, we encourage people to see beyond each other's differences, because when we connect rather than separate we also expand our ability to solve problems.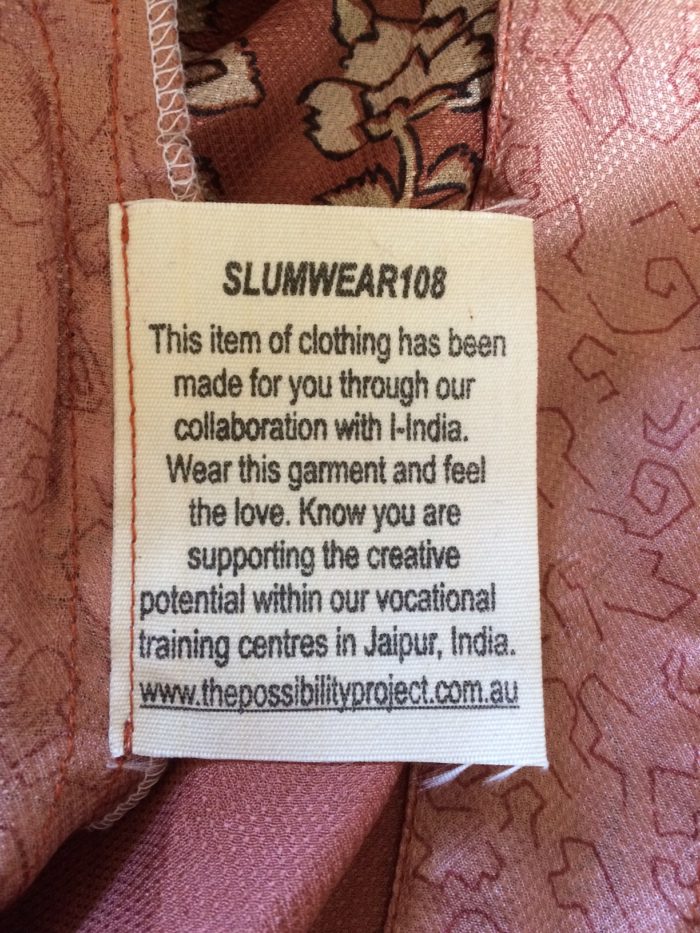 'We will not solve our problems with the same thinking that created them' Einstein
Social enterprise is an excellent way to bring innovation to problem solving. Our creativity drives us to find opportunities where others say 'not possible', we believe that only by adding inspiration to sustainable practises will we get transformation or revolutions! Through our close relationship with I-India we realised the most fundamental human rights abuses related to poor access to water and sanitation – (there is a direct link between exploitative child labour practises here) and we wanted to help address this problem.
Our solution has been to establish Sparrow Sanitation with I-India, we are integrating the development of slumwear108 to help fund a project that makes compostable sanitary pads. It works like this – Kath and I source incredible recycled silk saris, we then provide guidance to transform the saris into simple products. We sell these products through markets and other innovative social justice engagements and profits go to support the development of greater opportunities for dignified living for the impoverished in Jaipur. As part of the grassroots 'remuneration' package, women and girls in the care of I-India are now able to access free sanitary pads (a lifesaving alternative in many cases) and a menstrual education program that removes the shame surrounding this natural part of being a woman. It truly is a powerful way to 'fashion' change.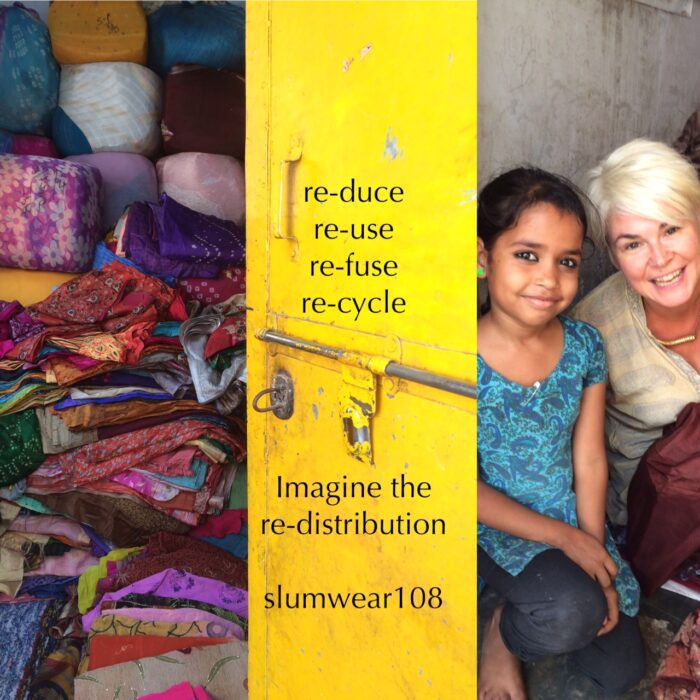 The Indian term for slum is jhuggi – it loosely translates as the 'ability to fashion what you want out of what you already have', the fundamental purpose of our work is to expand people's valuation of what we all 'already have'. When we work in India we have only one word in common with our workers 'Namaste', which means 'the creative in me recognises the creative in you', it is the most resourceful mindset one can work with when solving problems. Creativity is renewable, abundant and inexhaustible and it something we all already have regardless of income, race, religion and gender. We will have a revolution when we can encourage people to value resources that are both common to all humans whilst still having individual ownership (think water!) – think Namaste – you already have what it takes.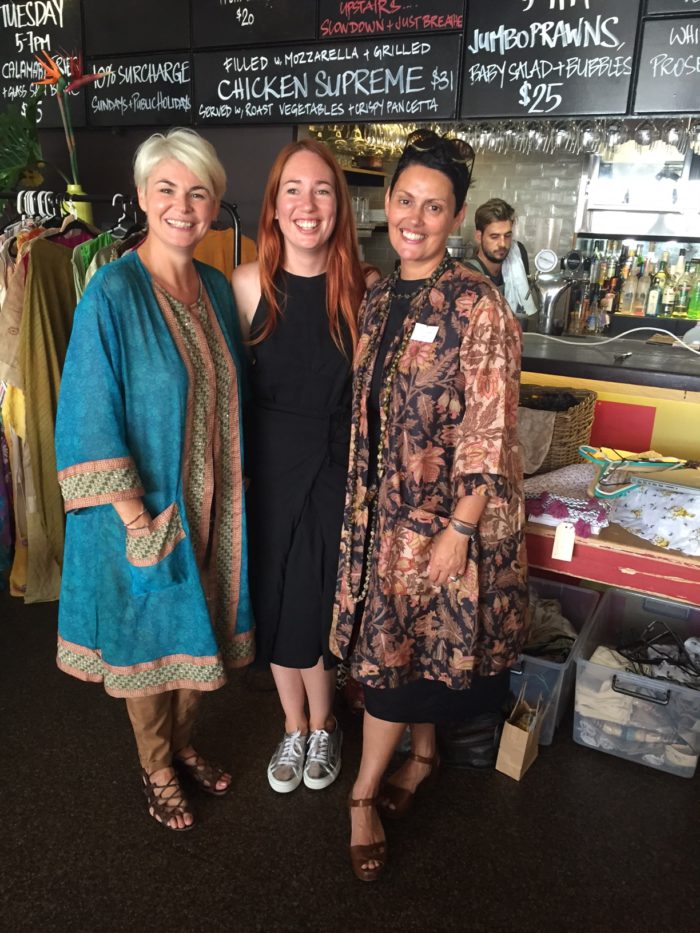 'The Possibility Project is as passionate about supporting young creatives at home, here we are with local pattern maker extraordinaire – Emily Hundt of In The Folds who designed our new upcycled silk jacket we have called The PeaceMaker.
With change you can always change back, but transformations take revolutions!
Working with communities that experience conditions of extreme poverty, it never feels appropriate to be talking about 'sustaining' their existence – instead we want to help transform livelihoods. We knew we wanted to help build an innovative, grassroots enterprise that supports greater social justice for all, but it is what we have learnt along the way from our family of workers that is fuelling creative solutions to difficult social issues. And we are so grateful to be using these insights to help 'revolutionise' the market we work in.
It is true that people want to change – but not if it means changing! Even when we know that change is necessary for the greater health of people and planet. Earlier this year we sat with a group of mothers who assist in the production of slumwear108, we wanted to know what is the one essential thing that would help transform their lives (to make sure that whatever it was, it would be a part of our project), the answer was simple – 'attitudes need to change', everybody (including the mothers) needed to be open minded to the possibility of doing things differently, only then are the conditions for transformation realised. We believe that this is the fundamental pre-requisite in any society if real change is happen, we can't have a revolution if people don't believe it possible! It is why it is so vital that those of us (regardless of size) who want to create change must continue to action their dreams. slumwear108 products are made through vocational training, it is very difficult to scale production but we are definitely scaling the 'mindset' needed for conscious consumerism- this is why we find the Fashion Revolution movement an excellent opportunity for small time makers to become big time shakers!