Meet Osei-Duro, the Los Angeles/Accra-based label contributing to the ethical fashion ecosystem in Ghana
9 months ago
---
Based in Los Angeles, Osei-Duro's rich identity is strongly linked to Ghana and its textile history. We caught up with its co-founder Maryanne Mathias to discuss the challenges of building a sustainable value chain in Ghana while reviving crafts and building on existing skills.
What led you to create an ethical fashion brand in Ghana?
I studied fashion design in Vancouver, Canada and had a small hand dyed clothing line based out of Montreal. At that time I was designing, sewing, and dyeing all the clothing on my own. After a certain time I grew frustrated with the clothing industry and decided to leave it and travel the world. Inspired by the textiles in the countries I visited, I ended up designing capsule collections in Ghana, Morocco, Egypt and India. Ghana was the first country I visited, and it drew me because of its rich cottage textile industry that had so much opportunity for growth and development. It is also English speaking and has a relatively stable economy, and is peaceful.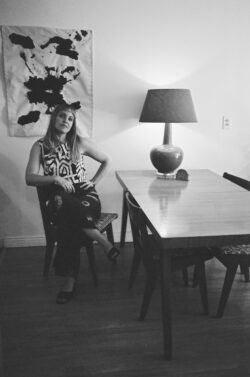 Tell us more about your background.
I attended the Vancouver Waldorf School (from Kindergarten to 12th grade) where the focus was on "learning with the head, heart, and hands". We did a lot of handicrafts like natural dying, knitting, weaving, woodwork, and ceramics, so I formed a solid foundation in artisan work. I then went on to study Fashion Design and Technology and formed my first company in my sophomore year.
Which materials do you use for your clothing? Where do you source them and are they sustainable?
We mostly use silk, rayon, and cotton. We source our cotton from Ghana, but since the cotton mill closed down, we are looking for an ethical international supplier. Our silk and rayon come from India and China. It is our goal to insure all our fabrics are made in audited factories, but we have limited resources and can only focus on one thing at a time.
Do you work with chemical or organic dyes?
We work with both chemical and organic dyes as they do different things. However we are super excited about developing more organic dyes to use in our upcoming collections. Currently we use indigo from the north of Ghana, and onion skins leftover from roadside restaurants and the vegetable market. We introduce a new natural dye every season and for AW17 we are using cutch, it has the most amazing army green colour on silk.
How do you decide which material is best for a collection?
Based on what we are trying achieve in a particular garment.
You recently expanded your production to Peru, tell us more about that. What was missing in Ghana?
Our main focus is to develop the export garment industry in Ghana. But we need our sales to be strong in order to achieve this. By adding warm alpaca sweaters we were able to increase sales for the fall/winter seasons, which then helped us keep our batikers, weavers, dyers and sewers in Ghana working.
What are your thoughts on mass production of fashion in Asia?
We try to support a fashion industry where people are able to buy less items, but of better quality and more integrity.
How would you describe your collections?
Our collections generally include a range of hand dyed wax resist batik prints, hand-woven cottons from the north of Ghana, hand-dyed natural indigo, and cotton or alpaca sweaters from Peru. We also use block printing from India, and are excited to bring the technique to Ghana soon.
What are the challenges you have come up against in your journey in running an ethical clothing brand in Ghana?
Getting consistent quality from our artisans and sewers.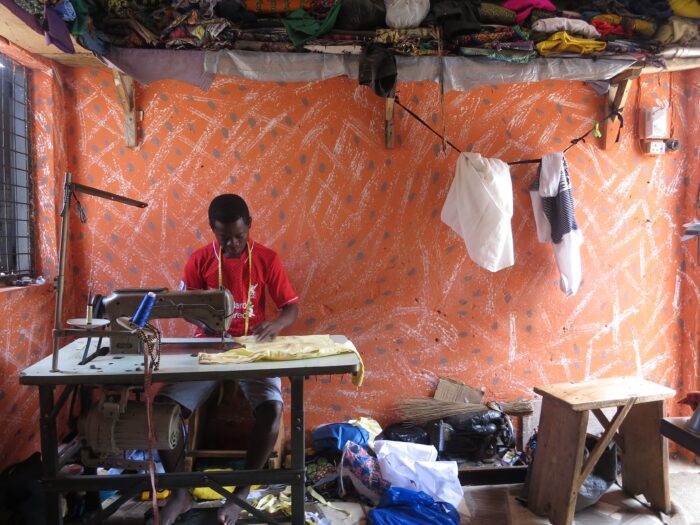 What contribution do you hope to make in the ethical fashion ecosystem in Ghana?
We want to build the ethical fashion garment industry in Ghana. As it is we were the first brand to do batik on silk and rayon, and now there are a bunch of other companies doing it. So that's a win. If more companies see what we are doing and come to Ghana to expand, then we are contributing.
What are your plans for the future?
Next up is expanding our natural dye library and workshop, and working much more with the weavers.
Any exciting news you would love to share about Osei-Duro?
We are super excited about our Spring/Summer 2017 collection and photoshoot, shot on location in Accra. Photos to come!
Photos – Courtesy of Osei-Duro