Mangosteen: Finding the Traditional in Innovation
10 months ago
---
Written by Hanna Pesha
Mangosteen International Fashion Show Installation takes place every year simultaneously in San Francisco and Singapore. According to Reve, the organization behind the event, "Six international designers presenting their main collections, followed with fashion installation by six creative teams lead by immersive fashion designers, who choose to follow their dream through collaboration in a contest style."  Though the theme of the fashion event is innovation there are several streams of the anachronistic that run through the design concepts. As models parade down the animated runway at Hack Temple in San Francisco I feel I know something of the stories behind the garments they wear. It is as if the old is becoming new again. This tendency is gaining traction and can be witnessed in the "slow" movement that started at the turn of the century in Japan. It emphasizes the beauty and practicality of rural ways and low consumerism. For example, the designer from the winning team belongs to Not Just a Label, a collection of clothing makers saying that instant luxury is the old way. "NJAL encourages designers to produce fashion that is sustainable and supports local communities and artisanal craftsmanship."
This is a concept that participating designer Tuan Tran truly lives by. Tran grew up in Vietnam with his grandfather, Dao Trong Cam, who cared for artistry in everything he did. He taught his talented grandson to create kites and baskets from bamboo, taking every opportunity to teach his protégé, and if his work wasn't up to snuff, gramps would yell at him. "You would sit there and have patience."  Tran explains, "Shave bamboo into thin pieces." From this man he learned that life is not an easy thing, you have to take your time to make things perfect. The designer lived with his grandfather until he was thirteen years of age and he immigrated to the United States.
Tran continues to bring the traditional into his way of making. He used to teach flower arranging: Ikebana. He exalts in "beautiful Mother Nature," and speaks poetically about the changing color of leaves and how the landscape offers him inspiration. "You are walking on beauty and don't even know it. Mother Nature has a funny way to put things. She is very creative and artistic."
His collection is a line called Wire Wear; he repurposes discarded telephone wire into fantastical sculptured garments. Tran explains that before the wireless cellphone these colorful strands were used to carry our voices to one another over distance. They exist in a pallet of twenty-five pairings of hue, which let the construction splicers know which lines go where, when installing telephony.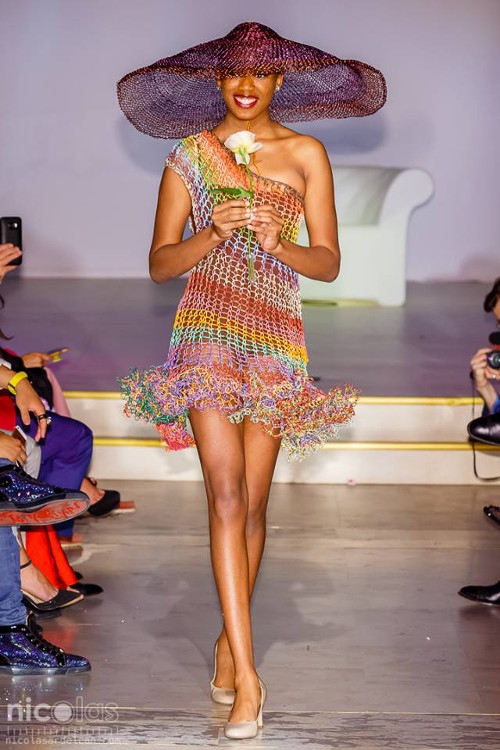 "These artistic colors are very vibrant. Red and yellow, purple and red." Tran bubbles. "People don't realize until you pull it out of the ground." He gives me a history lesson about how six years ago lots of companies moved over to fiber optic, and every building that was remodeled they would pull all that old wire out of the walls. Currently the wire is mainly melted down for copper, but this pollutes the air. Tran, finding it very beautiful decided to use it to create wire sculpture. A friend suggested making a dress, and so Wire Wear was born.
The story of how he procures his medium is quite as exciting as the pieces themselves. I ask him how he gets the wire. He gleefully explains that he goes dumpster diving!  It is quite a process to get the wire separate. It's a time consuming job that he does out of love. He does not work from a pattern, but figures it out as he goes, and each piece takes three months to make. Knotted netting is the technical term for the process he uses to weave the wire into dresses. In the old days it was a technique used to make fishing nets. "I've always been very sustainable, and liked to buy used clothes," exclaims the designer. We discuss using digital printing in fabric creation. He tells me how designers can print a small amount of material and make their own clothes. It is unnecessary to print a thousand yards. He intimates that most garments are made in the thousand and in reality only ten percent are sold. Such waste boggles the mind.
To Tran, fashion is a form of art. He would like to provide each one of his customers with a completely original piece; his work is never mass produced. The team that came out first in the Mangosteen competition glorifies the assembly line in a way.
It features a line of clothing called Working Class Heroes. The clothing line features an eye catching take on the factory coverall. Designer Clivia Nobili drew up the designs with her mind bent on honoring working people. Nobili is a French designer and she is intent on transmitting the message that fashion is not instant beauty. One of her greatest influences is the writer Jack London. She was especially impacted by his first hand descriptions of early 1900s London factory and tenement life in his book People of the Abyss. This is not to say that her garments are not luxurious. She uses high quality linen and cotton made in France. The garments are constructed with freedom and comfort in mind and many include an internal belt which can be tightened at whim. She pays attention to the ethics and values human life in the manufacturing process.
Runner up is team Ethereal Illusion. They take to the Mangosteen theme, including the fruit in a headpiece for the outfit. The young student designers are Mellisa Dulanto and Isis Bryant. Dulanto herself models the dress. Their enthusiasm is contagious as they describe their ethics, as well as their creative process. They value sustainability in fashion, and believe that how garment workers are treated affects us here in the United States. Isis speaks spiritedly about how workers are paid pennies on the dollar for their stitches, and the fashion industry as a whole should step up and help those folks on the assembly line gain the knowledge they want to become creative actors in their own right.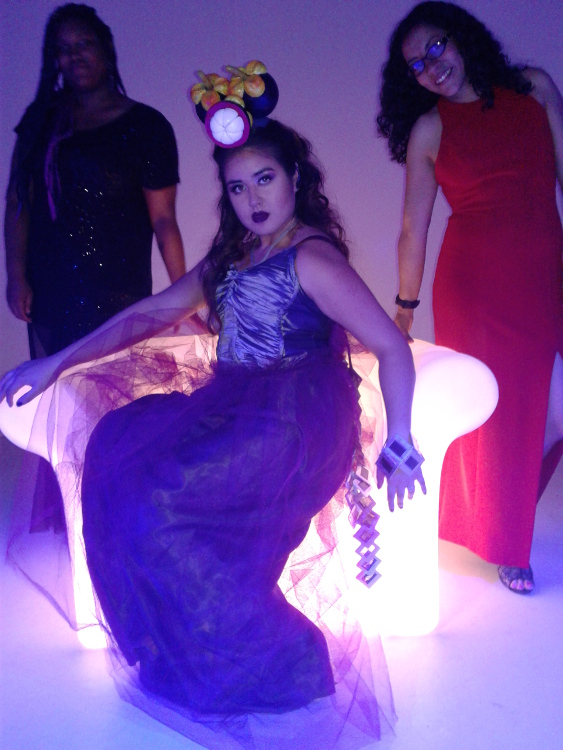 The dress they dream up is a magnificent confection of silk taffeta and tulle. The dress is fashioned from a recycled vintage piece and adorned with diamond inspired decorations made of antique slides. The overall effect is angelic with an edge. The slides are very old and delicate and the designers handle them with great care, choosing them with discernment and framing them in glass and metal. Isis is an abstract designer and this influences the way she chooses her images. As I look closer I can see that many of the slides feature classical Italian and Greek works of art, adding to the exquisite intricacy of the piece. The designer duo speak of their love for thrifting and finding beauty in something that had been cast off. They endeavor to shed light on the forgotten, even though it often takes hours to find each piece of the puzzle for the end garment. Each item they create is one of a kind, something they share with Tuan Tran along with the willingness to put in time until they get it right.
Isis sports earrings made from similar slides and choses to keep the dates intact on the labels, as part of the process of preserving history in the wearable art items. She also speaks of learning to use new tools, such as a drill when attaching the slides to the gown. Isis intimated that she had been on track for law school before submitting to her love of fashion to which she felt distinctly directed.
Overall Mangosteen is an event honoring high fashion and technical innovation. At first I am a little worried that I will not find the currents of designers honoring workers' rights and sustainability, but I discover them there, and feel vindicated that these are the themes of true innovation. I speak with one designer, Eysha Anchietta who tells me solemnly that the colors of her ensemble brown and white represent respect for the earth and purity of intent. Her hands are adorned with golden arrows and I imagine these visionary artists looked into the future from the bow of tradition.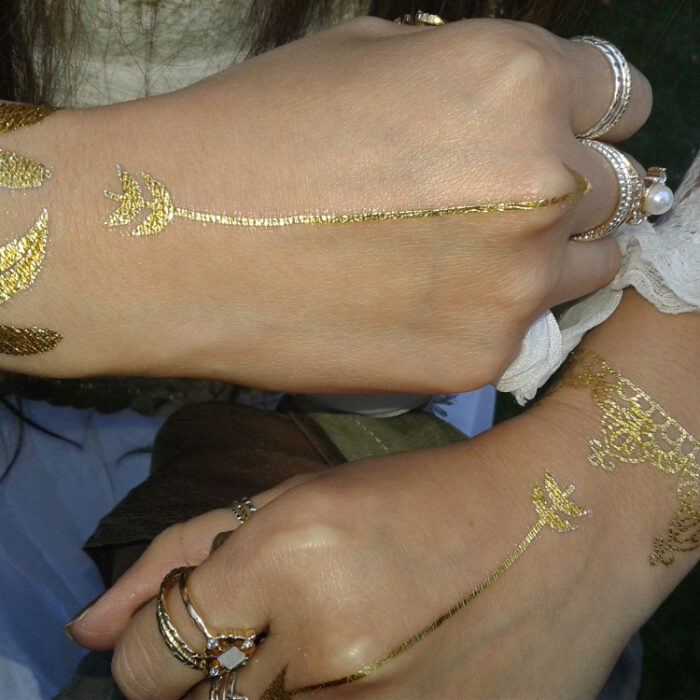 Photo credits:
Designer Tuan Tran (for the hat image)
Designer Tuan Tran. Model Lani Williams. Photographer: Nicolas Ardelean (for the wire dress image)
Designers Mellisa Dulanto and Isis Bryant. From L to R Creative Director Rachael Theuret, Mellisa, Isis. (for 3rd image)
Designer and Model Marina Petrova.(For the hands)