Generation Africa at Pitti Immagine Uomo
2 years ago
---
Yesterday at Pitti Immagine Uomo 89 in Florence, the Fondazione Pitti Discovery and ITC Ethical Fashion Initiative held a runway show "Generation Africa". With a focus on fashion from Africa, this unique platform promoted young and talented fashion designers from the continent, and showed the energy of today's African creative scene.
"Generation Africa is the chance to open a new window on one of today's most creative scenes" says Lapo Cianchi, head of Special Projects at Pitti Immagine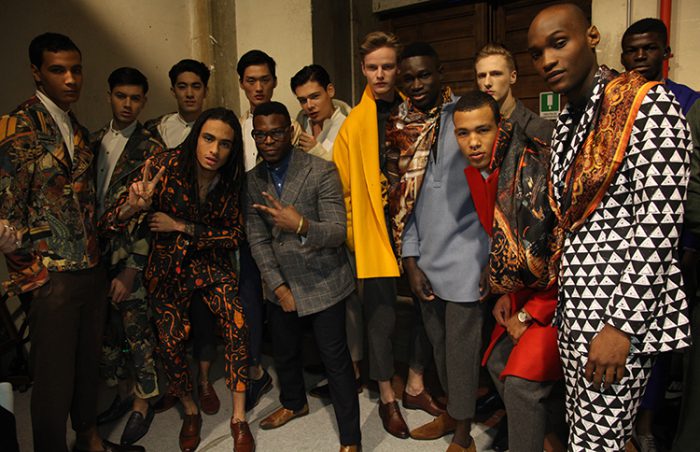 The show featured four brands already known on the international market that present different facets of the African continent and who focus on manufacturing in their home countries. AKJP, Ikiré Jones, Lukhanyo Mdinigi x Nicholas Coutts and U.Mi-1 all presented their Autumn/Winter 2016-17 men's collections.
"We continue our collaboration with Pitti Immagine to showcase the creativity of Africa. We want to convey a different image of the continent, one of innovation and diversity with a strong youthful energy for positive change. Pitti Uomo is the perfect platform for the designers to express their vision and show that Africa means serious business." says Simone Cipriani, Head and Founder of the ITC Ethical Fashion Initiative.
For Generation Africa, the Ethical Fashion Initiative partnered with the Italian association, Lai-momo which welcomes asylum-seekers in Italy and promotes cross-cultural exchanges between Africa and Europe with the aim of reducing stereotypes and preconceptions. As part of a joint effort by EFI, Lai-momo and Pitti Immagine to raise awareness on migration, three asylum seekers modelled for the show, giving them an opportunity to earn a wage and be part of an empowering international event celebrating creativity from Africa. Continuously striving to improve diversity in the fashion industry, the Ethical Fashion Initiative aims to demonstrate fashion's capacity to support the betterment of society.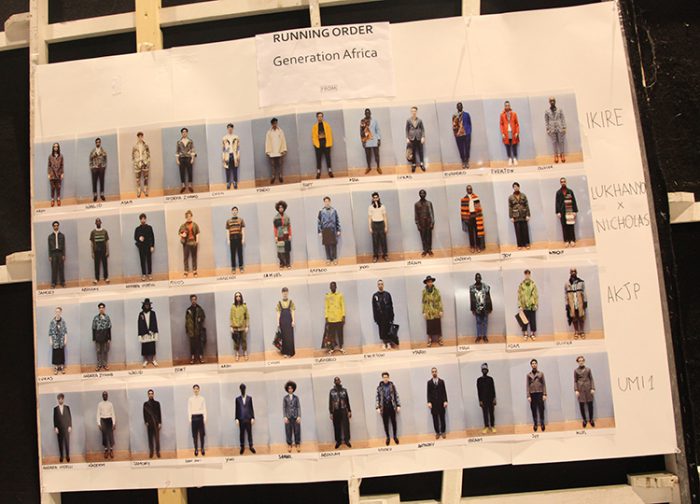 The Ethical Fashion Initiative is a flagship programme of the International Trade Centre, a joint agency of the United Nations and the World Trade Organization. The Ethical Fashion Initiative links the world's top fashion talents to marginalised artisans – the majority of them women – in East and West Africa, Haiti and the West Bank. The Initiative has been connecting artisans to the global fashion supply chain since 2009. The Ethical Fashion Initiative also works with the rising generation of fashion talent from Africa, encouraging the forging of fulfilling creative collaborations with artisans on the continent. Under its slogan, "Not Charity, Just Work" the Ethical Fashion Initiative advocates a fairer global fashion industry.
The four participating brands were:
AKJP // Keith Henning & Jody Paulsen, South Africa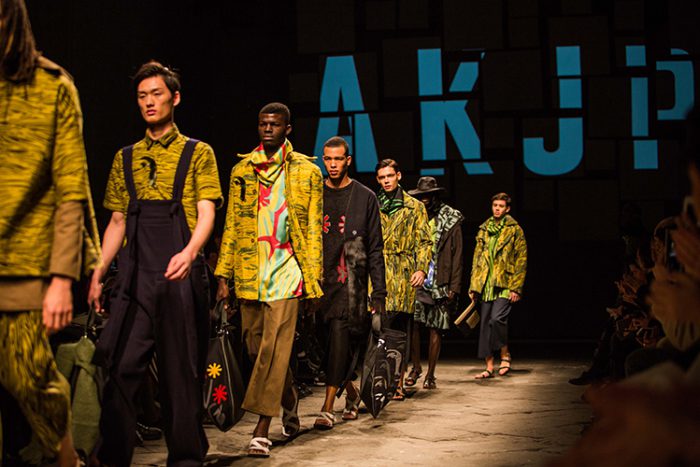 AKJP (Adriaan Kuiters + Jody Paulsen) is a menswear and womenswear brand founded by South African designer duo, Keith Henning and Jody Paulsen. AKJP's signature is its artful contemporary twist on classic and utilitarian menswear. The development of strong prints and sports-inspired motifs for each collection has become core to AKJP. AKJP uses layering, boxy silhouettes and asymmetrical detailing as a signature styling feature. AKJP has been recognised as one of South Africa's most innovative brands, bringing contemporary and cool to the South African fashion landscape. In 2015, AKJP was one of the finalists at Vogue Italia's Who Is On Next? Dubai.
IKIRÉ JONES // Walé Oyéjidé, USA & Nigeria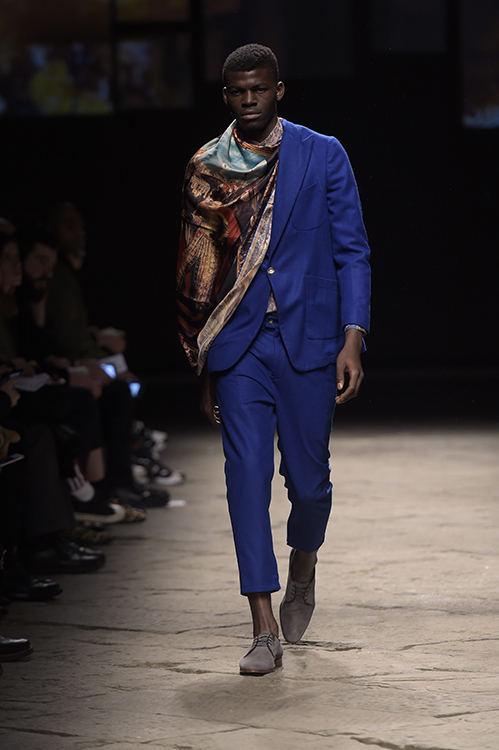 Ikiré Jones (pronounced "E-kee-rae Jones") is a menswear company that marries African aesthetics with classic art from all over the world. Each of the brand's pieces tells a contemporary story by using historical artwork as a medium for modern expression. With every collection, the brand places a strong emphasis on societal issues that affect immigrant and transient populations across the globe. Importantly, Ikiré Jones seeks to properly introduce modern African culture to the world. Through clothing, Ikiré Jones seeks to weave together a tighter global community. The brand's tailoring is done in the United States, and its accessories are printed and hand-rolled in Macclesfield, United Kingdom.
LUKHANYO MDINGI x NICHOLAS COUTTS // Lukhanyo Mdingi & Nicholas Coutts, South Africa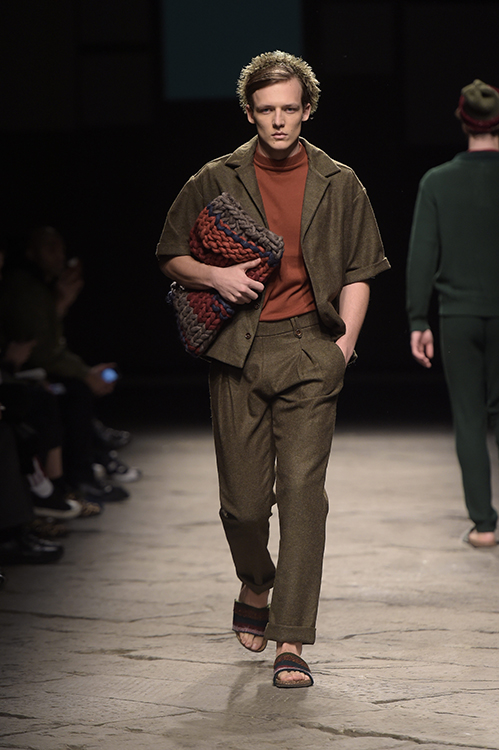 South African designers Lukhanyo Mdingi and Nicholas Coutts collaborate on this Autumn/Winter 2016-17 collection to illuminate each other's aesthetics. The design partnership combines Mdingi's minimalist approach with Coutts' distinctive signature weaving style. Together, the designers create a menswear collection that embodies strength, empowerment and contemporary sophistication.
Lukhanyo Mdingi interprets minimal aesthetics with his clothing, finding the balance between line, form and texture. Mdingi creates minimal looks that are distinct and powerful, with a flare of contemporary elegance and sophistication. Nicholas Coutts' signature is creating garments that are textured and uses fabrication to create a pleasing contrasting visual. Influenced by the Arts & Crafts movement, Coutts specialises in using handwoven fabrics and hand knitted items.
U.Mi-1 // Gozi Ochonogor, Nigeria & UK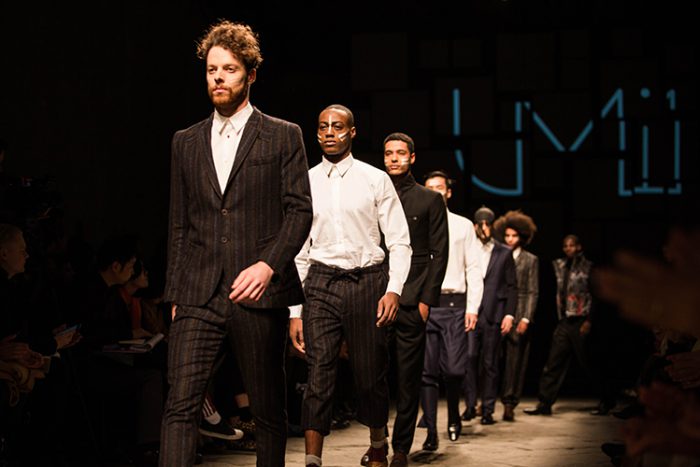 U.Mi-1 (pronounced you.me.one) is a contemporary brand for the modern cool man. It tells a different side of the African fashion story with collections inspired by Nigerian culture, architecture and art. Headed by Nigerian designer Gozi Ochonogor who calls London, Tokyo and Lagos her homes, U.Mi-1 collections are a blend of British tailoring aesthetic with the hallmark of Japanese artisanship and African spirit, delivering innovative designs and quality. Best described as tailoring with a twist, U.Mi-1 focuses on style, comfort and quality with interesting detailing that the wearer discovers anew.