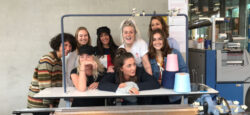 The Sixpence Label is a cooperative company founded by eight students of the Saxion University of Applied Sciences in Enschede,  who prioritize to change the perception of secondhand items.
On this event Sixpence Label will launch a new and fashionable collection entirely made out of secondhand clothing so you and all your friends and family don't need to worry about the negative sides of the fashion industry. Like child exploitation, overconsumption, CO2 emission, toxic wastewater and health problems. We design every piece with our love for fashion and reducing waste as much as it's possible.
We'll present our collection during a fashion show. After the show we invite you to come to our shop and attend the auction where you will be able to bid on the clothing. So there is a change for you to take the pieces you fell in love with, with you. All the money we earn will be donated to a charity that supports putting the negative effects of the fashion industry, on the Earth and its people, to a stop.