Ethical & sustainable Australian merinos six generations in the making
1 year ago
---
My name is Pip Smith and together with my husband Norm and our 5 children, we are the current custodians of our property called 'Glenwood' which is 5 hours drive west of Sydney, Australia.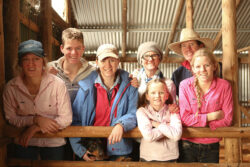 A lifelong dream of ours has recently become reality with the launch of LoveMerino which crafts stunning designer limited edition Merino scarves that can be traced right back to the flock of sheep on our farm.
This is the culmination of the hard work of 6 generations of Smiths who have lived and worked on the farm since 1898. We have always wanted to develop a brand using our own fine Merino to produce ultra-premium products for the global market and I have to pinch myself sometimes that our dream has come true!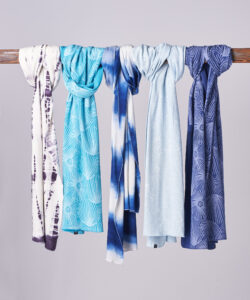 Consumers in Australia and around the world are becoming increasingly discerning about the ethical and sustainable aspects of fashion. They want to know where the product comes from, how it was produced and the story behind the brand. This has been virtually impossible with Merino wool … that is until now!
We have an amazing story and want to share it with the world. 'Glenwood' is not just a farming business but a way of life as we aim to achieve a harmonious balance between the environment, animals, business and our family.
This means we also have an ethical and sustainable story – our Merinos are grazed to mimic nature which has led to the re-emergence of unique species of native grasses thought to be extinct in this region.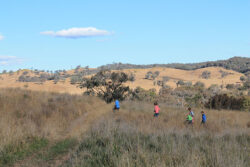 We are also looking to continuously improve animal welfare and we breed a new generation of Merino sheep called SRS®, developed by ex-CSIRO researcher Dr Jim Watts. SRS® Merinos have been developed over the last 20 years as part of an intensive R&D program. The outcome is a plain-bodied Merino with no wrinkle that does not require mulesing, is comfortable in its environment, and has exceptionally high levels of fibre density and length.
The SRS® Breeding System provides the genetic solution to Mulesing. Since implementing the system, we have been successful in breeding a plain bodied sheep with no wrinkle and wool that is virtually free of suint (which attracts flies) – this significantly reduces the susceptibility to flystrike. No animals have been mulesed on "Glenwood" since 2005.  SRS® Merinos are plain bodied with a loose, thin and soft skin that indicates a high density of secondary follicles compared to the traditional Merino.
Sourcing the best Merino in the world is only part of the story. At LoveMerino we have embraced a "slow fashion" ethos by working in small scale production with local Australian manufacturers, artists and design houses to produce limited edition pieces (1 of 50) inspired by the land we love so much.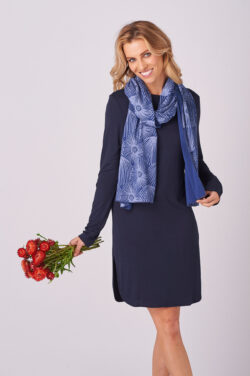 Manuela Strano
Part of our vision for LoveMerino is to be able to support up-and-coming Australian designers. For our first range we have worked with Sydney-based Manuela Strano. Manny is a graphic designer and artist wearing many hats, working from branding and packaging to letterpress and watercolours.
Woolerina
Australian Merino industry legend, Warwick Rolfe from Woolerina (Forbes, NSW) processes our raw Merino into yarn and then oversees the machine knitting of the super soft fabric in Melbourne.
Publisher Textiles
Publisher Textiles (Leichhardt, NSW) is a leading Sydney silk screen printing house established in 2002. Publisher Textiles use traditional methods to hand print our original designs onto our beautiful Merino fabric. Our designs are first put into repeat and then exposed onto a silkscreen with a metal frame. The fabric is printed in 20m lengths by two skilled screen printers who work in tandem down the length of the table.
Shibori
Shibori (Stanmore, NSW) is a creative partnership between Pepa Martin and Karen Davis who use traditional methods of Japanese Shibori dying. We have worked closely with this dynamic duo to experiment with colour and pattern on Merino, creating original pieces each dyed individually by hand in Sydney.
Our ultimate goal is for LoveMerino to help re-invigorate local manufacturing in our small country town and support the amazing designers, artisans and makers we have in Australia.
Our four part short film series which tells our "flock to fabric" story can be viewed at the links below:
LoveMerino's first collection is available now through the company's website www.lovemerino.com.au