We Are
Fashion Revolution
Slovakia
Čo je to FASHION REVOLUTION?
V stredu 24. apríla 2013 sa zrútila budova Rhana Plaza v Bangladéši, v dôsledku čoho zahynulo 1130 ľudí a viac než 2500 bolo zranených. Továreň na oblečenie s dvomi nelegálnymi poschodiami deň predtým evakuovali z dôvodu narušenia statiky. V deň tragédie boli robotníci pod hrozbou straty mesačnej výplaty nútení vrátiť sa do práce. Tento deň je označovaný ako jeden z najtragickejších dní v dejinách módneho priemyslu.
V nadväznosti na túto udalosť bolo v Londýne založené medzinárodné hnutie Fashion Revolution, ktoré bojuje za zodpovedný, uvedomelý a udržateľný módny priemysel.
Prečo potrebujeme FASHION REVOLUTION?
Módny priemysel je druhým najšpinavším priemyslom na svete. Naše oblečenie, ktoré je vyrábané rýchlo a lacno je z dlhodobého hľadiska neudržateľné, či už sa to týka zneužívania lacnej pracovnej sily v zemiach tretieho sveta, prečerpávania prírodných zdrojov alebo narastajúce množstvo textilného odpadu.
Odhaduje sa, že v priebehu jedného roka sa vyvezie z tovární až 80 biliónov kusov oblečenia do celého sveta.
Na výrobu jedného trička sa spotrebuje 2720 litrov vody, čo sa dá prirovnať k množstvu vody vypitej počas doby 3 rokov.
Približne 757 litrov vody je spotrebovaných na výrobu jedného kusu riflí, čo sa rovná 285 sprchám.
Až 95% vyhodeného oblečenia sa môže zrecyklovať alebo upcyklovať.
Spotreba oblečenia vyprodukuje 1.5 ton oxidu uhličitého na domácnosť ročne, čo sa rovná množstvu aké vyprodukuje 6000 áut v premávke.
Odhaduje sa, že až 170 miliónov detí vykonáva detskú prácu, pričom vysoké množstvo z nich pracuje práve v rámci módneho zásobovacieho reťazca
Ako sa zapojiť do kampane FASHION REVOLUTION a ukázať, že aj malým gestom sa dajú dosiahnuť veľké zmeny?
Každý rok si pripomíname počas FASHION REVOLUTION WEEKU 24-30. apríla pád bangladéšskej továrne Rhana Plaza. Ľudia z celého sveta sa pýtajú, kto vyrobil ich oblečenie, prostredníctvom sociálnych sieti a hashtagom #whomademyclothes, kde vyzývajú odevné značky k transparentnosti a trvajú na odpovedi. Zapojte sa aj Vy do revolúcie:
Vyfoďte sa v oblečení naruby tak, aby bol štítok s menom značky alebo výrobcu viditeľný vpredu.
Nahrajte svoju fotku na sociálne siete počas FASHION REVOLUTION WEEKU 24 – 30-4.2017
Označte svoju fotku @značka#whomademyclothes#slovakia a opýtajte sa tak značiek, kto vyrobil vaše oblečenie. napr. Hey @Zara I want to know #whomademyclothes #slovakia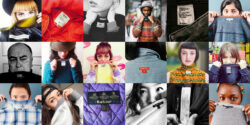 Odevné firmy, ktoré sa nezdráhajú informovať o podmienkach výroby svojho oblečenia oproti tomu zdieľajú fotky zo svojej produkcie s hashtagem #imadeyourclothes a ukazujú tak svojim zákazníkom, kto ich oblečenie vyrába.
Kampaň Fashion Revolution na Slovensku podporili aj známe slovenské osobnosti, medzi inými Adela Banášová, Maroš Kramár, Bruno Ciberej, Barbora Švidraňová, Lýdia Eckhardt, Tamara Heribanová-Šimončíková, Soňa Mϋllerová, Twins-ky Veronika a Daniela Nízlové, Jana Kuzmová, Jana "Janais" Kothajová, alebo Svetlana Rymarenko, Soňa Norisová a Jana Golis zo skupiny Fragile. Pozrite si video z fotenia (tu), v ktorom sa osobnosti vyjadrili k tomu, ako vnímajú módu oni a prečo má Fashion Revolution význam.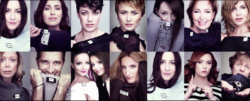 Staňte sa aj VY revolucionárom a pripojte sa k nám!
Sledujte naše aktivity na Slovensku na Facebooku a Instagrame a zdielajte spoločne s nami myšlienku zodpovedného módneho priemyslu počas celého roka. Zostrih toho, ako to vyzeralo v roku 2016 na Fashion Revolution Day v Connect Coworkingu si môžete pozrieť tu.
Chcete s nami spolupracovať?
Chcete nás podporiť?
Chcete byť súčasťou nášho tímu?
Si študent a chceš sa stať ambasádorom Fashion Revolution na tvojej univerzite?
Tak neváhajte a kontaktujte nás na fashionrevolutionslovakia@gmail.com.
FASHION REVOLUTION NA SLOVENSKU PODPORILI: