We Are
Fashion Revolution
Bahrain
"Bahrain is a fashion conscious society – we have a deep tradition of valuing beauty in all its forms. However, beauty is a wholesome concept, and we need to understand the environmental and ethical footprint out garments carry. So, join the conversation, join the movement, and make sure to attend our screening of the True Cost on April 24th. It will be a meeting of the minds, and a chance to exchange a garment and its story for another. Let's think about the things that touch our bodies. Let's kick off our Fashion Revolution, and let's kick it off big".
Why do we need a Fashion Revolution?
On 24 April 2013, 1,134 people were killed and over 2,500 were injured when the Rana Plaza complex collapsed in Dhaka, Bangladesh. That's when Fashion Revolution was born.
We believe that 1,134 is too many people to lose from the planet in one factory on one terrible day to not stand up and demand change.
We believe in an industry that values people, the environment, creativity and profit in equal measure. Our mission is to bring everyone together to make that happen.
How does this apply to Bahrain and its neighboring Arab countries?
1- Conscious Consumption: As a consumer, you have a lot of power. The Fashion Revolution platform can be used to exchange information on how garments were made (both ethically and environmentally).
2- Responsible Production: For producers, Fashion Revolution can serve as a platform to discuss what more can be done to cater to the environment and to ensure the healthy living conditions of employees.
3- Holding Fast Fashion Brands Accountable: Fashion Revolution is a platform to call the brands we love accountable (not to avoid or boycott them).
Every year, during Fashion Revolution week (April 24-30), conscious consumers from across the globe use social media to ask the brands they love and are wearing #whomademyclothes – these brands respond.
Let's join them this April 24, 2017, in holding brands accountable. This movement has caused significant impact globally, leading to an increase in transparency in the treatment of labor and working conditions.
Fashion Revolution Day (April 24) in Bahrain:
This year, Fashion Revolution Week in Bahrain will be kicking off with a screening of the True Cost & Clothing Swap on April 24th, 2017 at Words Bookstore Cafe in Budaiya. Check out the website Event Page  and the Facebook event page.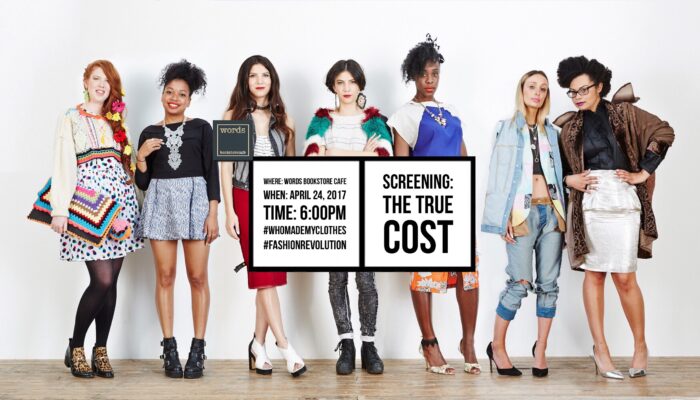 For the rest of the week (April 25th – 30th), an educational campaign engaging Middle and High school students across the country will be initiated. The campaign will include screenings and interactive sessions on sustainable consumption and the garment industry.
"A love for fashion, and consumption in general, starts young. Every boy and girl that has grown up in Bahrain has probably put significant thought into the products they wanted to adorn growing up. Not as much thought is put into where these products come from, and where they go. I believe targeting Middle School and High School students is important, and an exciting platform to change mindsets on consumption" says Rawan Maki, Fashion Revolution Bahrain's Country Coordinator.
What if I want to take part, but cannot attend?
To join the movement through social media, participants are recommended to wear clothes from their favorite brands inside out, and use the hashtag: #whomademyclothes  on any social media platform.
Also, make sure to follow the Fashion Revolution Bahrain Facebook page and Instagram for the most updated information and events.
If you want to get in touch directly, please use our Contact Form.