Call for Fashion Revolution Student Ambassadors
2 years ago
---
We're looking for university students to be Fashion Revolution Student Ambassadors
The education sector has a really important role to play in shaping the future of the garment industry. Hundreds of students in schools and universities across the world took part in Fashion Revolution Day 2015 and we are encouraging that even more for 2016.
To find out more about becoming a Student Ambassador, read more of this blog or register for our free Educational Resources and read the download "How to be a Fashion Revolution Student Ambassador" and then email education@fashionrevolution.org
Educators are doing a fantastic job
Teachers are doing some amazing things with their students in schools across the world and many are busy planning their events for Fashion Revolution Day on 24 April 2016, making use of our free Educational Resources. All the children involved were totally engaged with the message #whomademyclothes and learnt more about where their clothes are made, who is involved and were keen to ask brands #whomademyclothes. You can see some of the things they did on our Pinterest board here.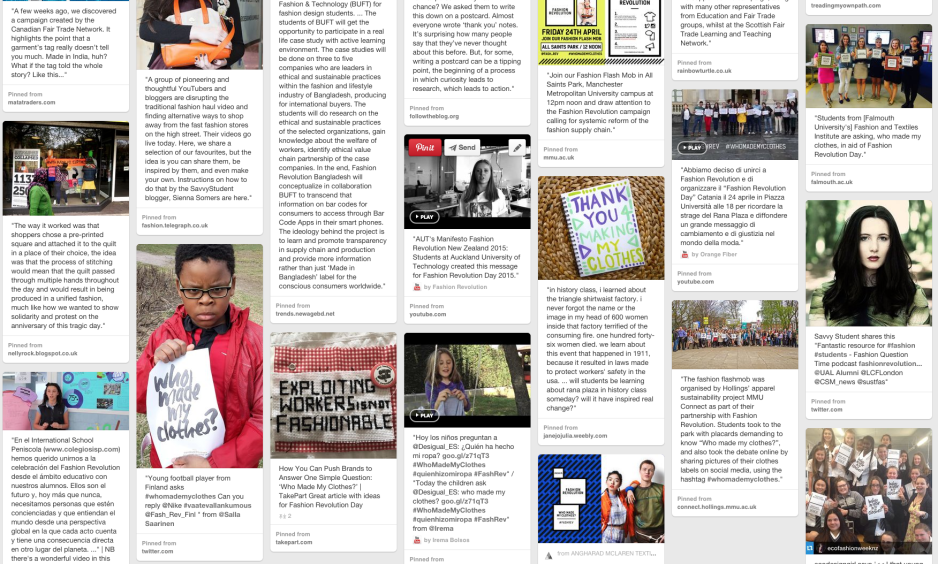 Why become a Fashion Revolution Student Ambassador?
We know that a lot of university students have been involved in Fashion Revolution Day and came up with really creative events. We want to encourage and support that activism, which is why we have set up a network of Student Ambassadors in universities across the world. We encourage our Ambassadors to communicate with each other via a global Facebook group so that ideas and inspiration can be shared across the world. We will also provide support and advice to our Ambassadors to ensure that they get the most out of being involved with Fashion Revolution and help us ask #whomademyclothes with an even louder voice.
What does a Fashion Revolution Student Ambassador have to do?
The main purpose of a Student Ambassador is to find a group of like-minded students in their university and work together to put on an event on Fashion Revolution Day on 24 April 2016 asking brands and retailers the question #whomademyclothes.
How to become a Fashion Revolution Student Ambassador?
Any student who would like to know more about becoming a Fashion Revolution Student Ambassador is invited to register on the education page of the Fashion Revolution website and download the pdf, How to become a Student Ambassador, which gives more detailed information about the role. Any student in the UK, who would like to apply, should then contact the Global Education and Resources Team on education@fashionrevolution.org to register their interest. We will let them know if there is a vacancy in their university and get them all set up. Any student NOT in the UK, should contact the Country Co-ordinator in their own country using this form