Behind the scenes with Open Studios 2017
6 months ago
---
Fashion Revolution's inaugural Open Studios project was designed to open up the conversation about how clothes are made: to show some of the many processes involved; to give the public who don't normally have access to the often secretive behind the scenes business of the fashion industry; and to give a platform to some of the designers who are actively finding different ways of producing and selling their collections.
For the designers, this was an opportunity to talk about their clothes and the craftsmanship that goes into making them away from the traditional catwalk format which many new generation designers (and some more established ones) are no longer comfortable with.
A new way of talking about clothes
Fashion is going through a massive shift right now. It's time to rethink the whole business, from how clothes are made to how they are shown and talked about. Everything is up for question. How many seasons should there be? Is the catwalk show a waste of money (and air miles)? How does a designer communicate most effectively to their community? How does a designer find his or her community?
What is becoming clear is that having an authentic story – whether that's about the provenance of your materials, the way you make your clothes, your supply chain, or your manufacturing process – resonates with the public. If people trust you and your brand values, they are more likely to become loyal clients.
For young, independent designers, the marketplace is an increasingly crowded one. The gap between the big multi-conglomerate owned brands and independent designers is getting bigger.  Even if you have something to say, it is difficult to make your voice heard. But at the same time, the industry is looking for answers and it is the smaller brands who are finding innovative new ways of doing things. Fashion Revolution Open Studios is the perfect place to start those conversations.
Open Studios is an international initiative which is set to expand for 2018.  In California, Raquel Allegra hosted a tie-dye workshop in her downtown LA store, showing participants how to dye their own clothes. She also used the opportunity to introduce some of the team who work on the production of her clothes.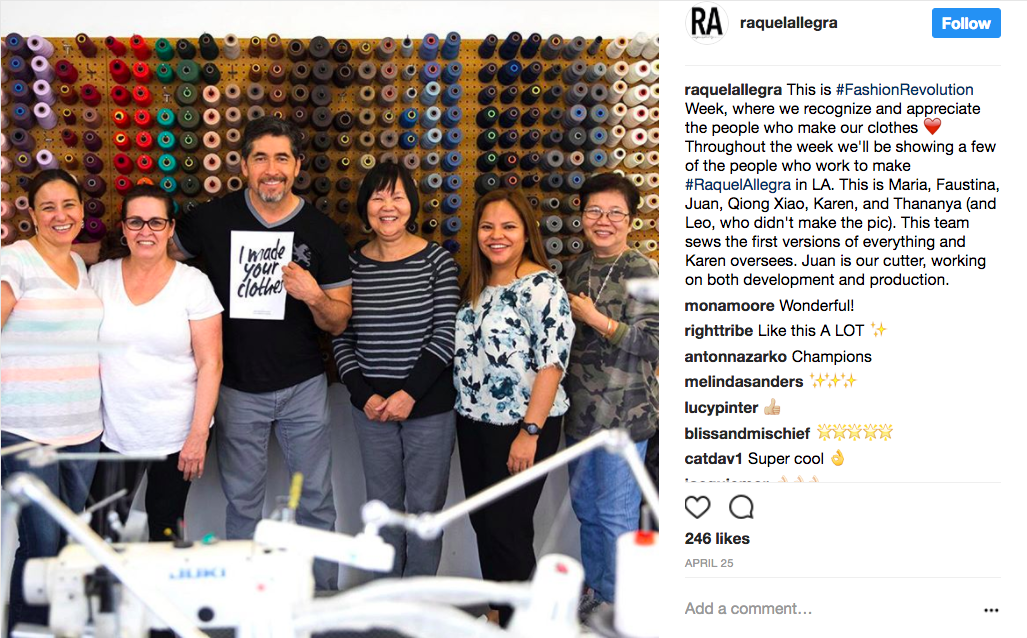 Meanwhile, in New York, Audrey Louise Reynolds held an open studio at her Brooklyn Red Hook space showing how she uses vegetable and natural dyes for her delicate pastel pink and turmeric yellow colour palette with advice on how to use her DIY natural dye sachets too. Reynolds has collaborated with Jigsaw as well as Helena Christensen and you can see why her work is in such demand. Read more on WGSN.
And in Jakarta in Indonesia, one of the country's hottest young designers Wilsen Willim hosted a shirt making workshop at the Indoestri Makerspace. Willim's signature is the shirt dress which he creates in seemingly endless inventive variations. Willim makes use of the innovative digital startup Kostoom.com which connects him with a network of seamstresses to do his production as piece work which means he, and other small designers, can produce small quantities and scale up or down whilst providing work to tailors working at home.
Studios as creative hubs
Christopher Raeburn embraced the format wholeheartedly. Since moving into his studio space in the old Burberry factory in east London's Fashion Village, he has been welcoming the public in for studio tours including his archive of vintage military clothing as well as his own collections. He has also started a series of maker workshops where you can learn to cut and sew your own piece of Christopher Raeburn with a little help from his seamstresses and design team. He enjoys welcoming his local community in to see what he is doing.
"I am very proud of my studio," he said, "and like to open it up as a creative and community hub whenever I can, with regular workshops to teach people how to sew as well as how to repair and customise their clothes and accessories."
For Open Studios 2017, he hosted a series of open studio tours as well as a "Totes Remade" evening showing guests how to sew their own bag from scrap fabric, and with sponsor Avery Dennison RBIS, created a huge selection box of patches (made from recycled yarn) to decorate the bags. It was quite a party.
"I was very proud to open up the REMADE studio and be a part of Fashion Revolution Week and #whomademyclothes campaign," said Raeburn. "The tote making workshops were very rewarding events that brought lot of creativity out of the local community."
Make your own
A real trend that emerged from Open Studios 2017 was a move towards involving the consumer in the process of making their own clothes. Katie Jones held an intimate workshop at her Cockpit Arts space in partnership with Beyond Retro. She taught her participants how to crochet patches to customise or repair existing clothes. It was an opportunity to learn some new skills, meet the designer (and eat lots of Haribos) and learn about her business and craft, but also to make something useful. She's extending this idea into her practice more and more – keep an eye on her website for in-depth workshops you can join where making your garment is part of the process of owning it. Katie believes that fashion is as much about your relationship with the garment as it is just owning it. It's not enough to just buy it off the peg (though of course, I'm sure she would welcome that too!) Sign up to get news of her upcoming workshops here
A platform to exchange and share new ideas
As well as workshops as ways to learn a new skill and understand how our clothes are made, Fashion Revolution Open Studios is the ideal platform to discuss and exchange new ideas. We partnered with the Sarabande Foundation for a talk with John Alexander Skelton, one of the most exciting and original new talents to emerge from Central Saint Martins. Skelton looks at his supply chain with forensic detail and creates extraordinary menswear collections using traditional handloom weaving techniques as well as sourcing woven fabrics and knits from local British suppliers. He is forging a new way of producing and selling collections that have, at their heart, an intrinsically ethical and transparent supply chain. Guests were given the rare opportunity to meet John and see his studio, complete with a weaving demonstration. It was a memorable and thought provoking evening, well attended by students, press and industry insiders.
This is Fleur Britten, fashion editor of the Sunday Times' take on the evening:
The only fashion week worth caring about
There was so much great support and enthusiasm for Fashion Revolution Open Studios 2017, not least from The Debrief who described it as "the only fashion week worth caring about" (we think so, too), as well as Refinery29, Vogue, 10 Magazine, Tank, Sleek, and many others websites and influencers. It was a phenomenal success.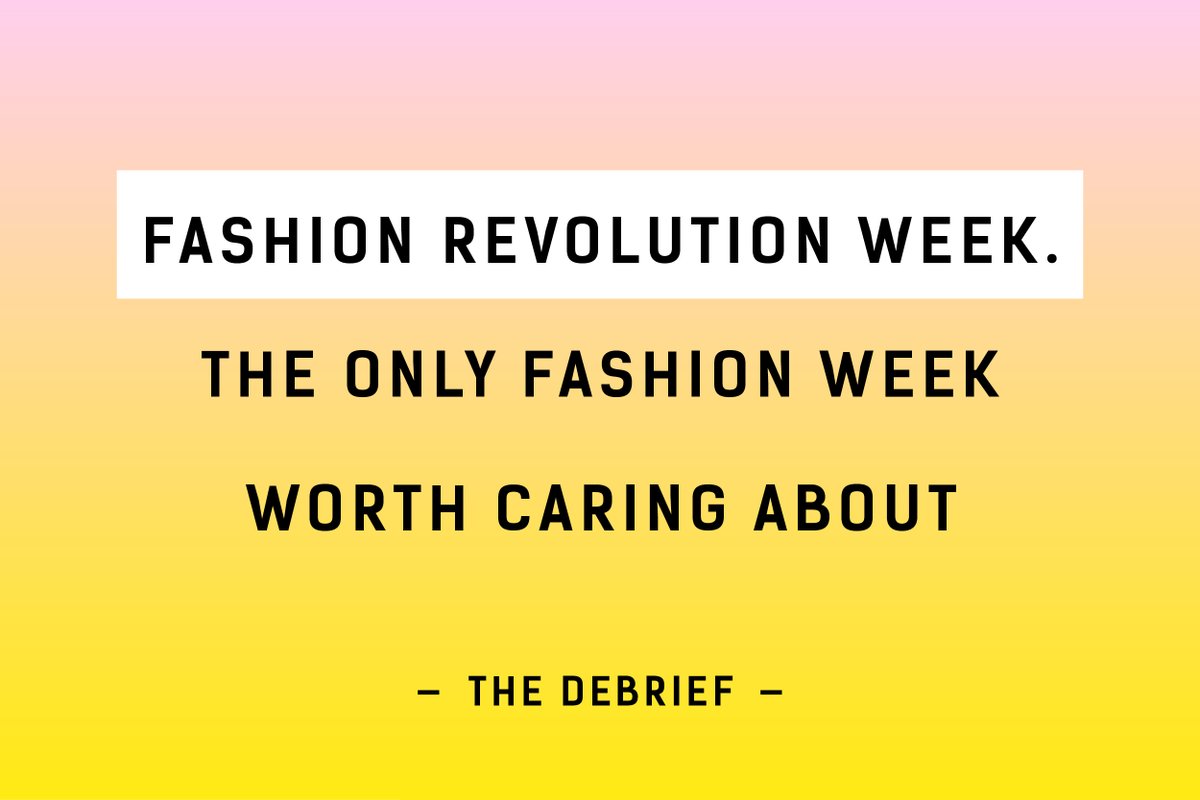 Also taking part in the week's events were The Autonomous Collections with Kim Stevenson and her 'ethicool' workshop where she invited participants to help make a garment; Jodie Ruffle, the extraordinary embroiderer whose recent collaborations have included a project for Adwoa Aboah's brilliant Gurls Talk Embellished Talk project; Blackhorse Lane Ateliers which hosted a series of open studio events with tours of a unique workshop hand-crafting British made jeans; and the entire textile city of Prato in Italy which staged several workshops and events, coordinated by Italy's Fashion Revolution country coordinator, the veteran designer Marina Spadafora.
We are in the process of planning Fashion Revolution Open Studios 2018. We have so much to build on, and can't wait to announce the new line up, hopefully with an event you can take part in near you (or at least online). So stay tuned and thank you for all the amazing support and to all the designers for sharing their stories, their brilliance, and their creativity.