Why Transparency matters
---
We believe transparency is the first
step to transform the industry.
And it starts with one simple question:
Who made my clothes?
We believe this simple question gets people thinking differently about what they wear. We need to know that our questions, our voices, and our shopping habits can have the power to help change things for the better. With more citizens encouraging brands to answer 'who made my clothes?, we believe Fashion Revolution has the power to push the industry to become more transparent.
The situation now:
A lot of brands don't know who makes their clothes,
so how are we supposed to make informed purchases?

The latest Behind the Barcode report found that out of 87 of the biggest fashion brands less than half publicly state which countries they source from, only 16% publish a full list of the factories where their clothes are sewn, and less than a fifth of brands know where all of their zippers, buttons, thread and fabric come from.1
The first edition of our own Fashion Transparency Index, published April 2016, found that out of 40 of the biggest fashion brands only one third appeared to be sharing information about their supply chains with the public. As consumers, we deserve to know that what we buy has not been made in an exploitative way.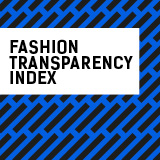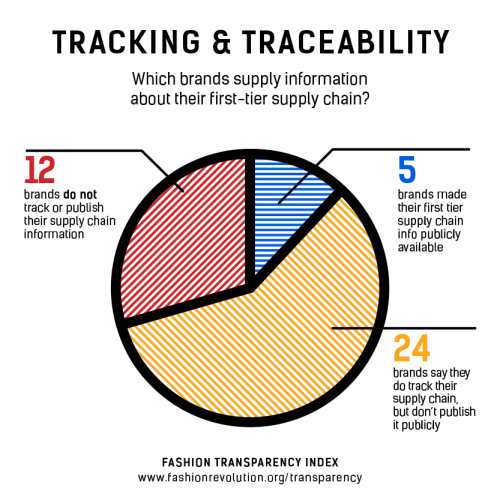 Lack of transparency costs lives. It's impossible for companies to make sure human rights are respected and that the environment isn't being destroyed without knowing where their products are made. That's why transparency is essential.
What do we mean by transparency?
Transparency means companies know who makes their clothes and under what conditions – at least where they are stitched as a first step – and communicate this to the public, to their shareholders, staff and the people across their supply chain. It's about public disclosure of business practices from the farm to landfill.
"You cannot improve what you cannot see."
Knowing is the first step. Transparency requires more visibility into the companies, processes and people who make our clothes. Taking action on what you find is the next step. If we know the facilities where our clothes are being made, if we have access to factory, mill and farm lists where brands are sourcing, then the public can help hold the industry to account for bad practices and encourage good practices.
However we have to demand that kind of transparency from the industry. We have to ask questions like 'who made my clothes?' We believe this is how change will happen.
"Ignorance is no longer bliss – it's a liability."
We recognize that being transparent is difficult. As a business, you might fear transparency because you don't want it to jeopardise your competitiveness or because it might uncover issues you don't know how to resolve.
But we live in an era when personal and corporate secrets can be unraveled with a few lines of code or clicks of the mouse, and so today, it is only a matter of time before the facts are revealed. Transparency therefore is an issue of brand reputation.
There's no excuse anymore. As a company, your greatest fear should be that more tragedies like Rana Plaza will happen again, and you'll be complicit.
Transparency creates opportunity
Not only is transparency about understanding and reducing any risk to your company reputation but it can also be good for business. Knowing who makes your clothes and where, being in better touch with your supply chain, means you can understand it more clearly and make more informed business decisions.
Being transparent creates the opportunity for collaborative action between companies, governments, NGOs, unions and the public to work towards building a fairer, cleaner and safer fashion industry.
Who made my clothes?
In order to answer this question, Fashion Revolution will be encouraging citizens to ask the brands they wear for the following information:
Supplier details
A list of all the factories where their products are made including name and full address. As the first step, a list of the suppliers who the company has a direct relationship with (known as the 'first tier' in industry jargon). 
And eventually, a list of all the suppliers involved in the making of their products including sub-contractors and the facilities where clothes are treated with finishes, embellished, printed, dyed, processed, where components like zippers and buttons comes from, and where the fibres are spun and grown (referred to as tiers 2, 3 and 4 and whom brands tend to work with indirectly).
We would also like to see companies share publicly when each facility was last audited for workers rights and environmental practices, who audited the facility and to which standard they were measured against.
Companies should also share publicly for each facility:
the number of workers;
registered unions;
programmes for training workers on their rights and welfare;
the ways in which workers can voice their concerns without fear or punishment (known by the industry as independent grievance mechanisms);
programmes for minimising environmental impact.
For small brands, they might even be able to share with us the name, location, photo and story of the exact person who made their product, allowing us all to celebrate the makers!
How companies ensure workers rights are respected
In addition to knowing the places, people and conditions under which our clothes are made, there is more that brands should share with the public about what they do as a company, including:
the company structure and its business activities;
how its supply chains are structured;
its policies in relation to social and environmental issues;
a supplier code of conduct;
the steps the company takes to avoid human rights abuses and environmental degradation (in industry speak, this is known as due diligence);
the company's effectiveness in ensuring that human rights abuses and environmental degradation isn't taking place, or even better if they can show a positive impact for communities and the environment, and that their impact improves year on year;
the training, investment and incentives they provide to the company's staff and across its supply chains in relation to social and environmental issues. 
Many companies already do share this information through its sustainability or Corporate Social Responsibility (CSR) reports and websites.
Want to read more?

On 2 December 2015, Fashion Revolution launched our White Paper on Transparency in the Fashion Supply Chain in Brussels. The paper sets out the need for more transparency across the fashion industry, from seed to waste. The paper contextualises Fashion Revolution's efforts, the organisation's philosophy and how the public, the industry, policymakers and others around the world can work towards a safer, cleaner, more fair and beautiful future for fashion.
Although our resources are free to download, we kindly ask for a £3 donation towards booklet downloads. Please donate via our donations page